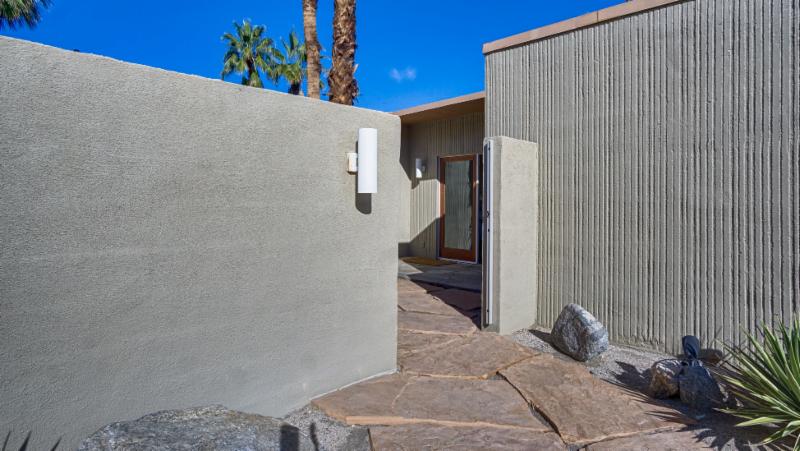 We have many fine examples of this architectural genre that are "The Lost Mid-Century Moderns" because we can't connect them with their architect.  These post and beam homes were designed for maximum light, view lines and contact with the desert. Take this home for example.
According to the County Tax Assessor record, it was built in 1957.  A knowledgeable visitor pointed out that the raked stucco exterior was often used by E. Stewart Williams, and the time frame was right.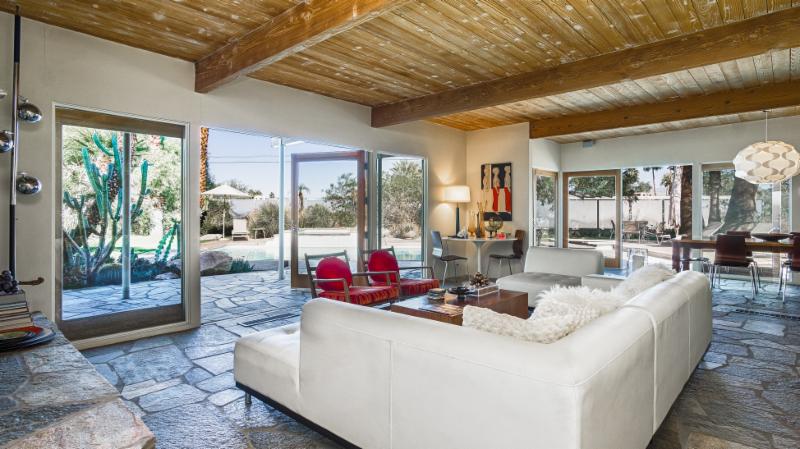 The Hunt Was On!
Our first effort to find the architect was to contact the Palm Springs Art Museum. "In 2002 Stewart Williams donated mounted photographs of eighteen architectural projects, drawings of twenty-eight residential projects and nineteen commercial/institutional projects. The drawings are the complete personal archive of his work including schools, banks, residences, colleges, and the museum."
The collection is not online, but it can be viewed by appointment for pre-specified items, selected from the E.S. Williams' Project List and Drawing List.  These lists identify drawings by client's name, and seldom by address. On the assumption that the home may have been designed well before it was built, we asked about his 1955-1957 projects. It turns out they have only three residence drawings in that period, Koerner and Kenaston, that we already know, and for a Geierman residence in Laguna Beach.
Perhaps we could match the original owner's name to the lists. The online tax record shows it was sold by Charles Shelton in in 1989, but his name doesn't appear on the the list of ESW projects.  It could be useful to know if he was the original owner in any case.
A check with the Riverside County Building and Safety Department found they have Palm Desert permits recorded from 1967 until 1973 when the City was incorporated.
A visit to the Palm Desert Historical Society proved useful. There we found Mr Shelton did appear at the subject home address in a 1965 phone book but not in a 1957 phone book. We also found Mr Shelton was publisher of the Desert Magazine from 1958-1963. The Magazine is online. Warning, it could be addictive.  The Historical Society staff also knew Ann Shelton, daughter of Charles, who was a Palm Desert Real estate agent, who we couldn't contact as she has retired and moved.
One of the staff checked their records and found the name Owen Hudson connected to the address, but he doesn't appear on the ESW project list. Mr. Hudson's name doesn't appear in the 1957 or 1965 phone directories
They suggested we review The Desert Sun online archive which contains over 7,000 searchable issues from December 1934 to April 1978.
There we found The Desert Sun reported in October 1960 that Owen Hudson drew a permit for a sprinkler system at 73110 Grapevine.  It also reported in June 1962 that the Sheltons' purchased the Hudson home on Grapevine.
As much as we can tell, Mr Hudson was the original owner, but we have not identified an architect, so it seems we have another lost mid-century modern.