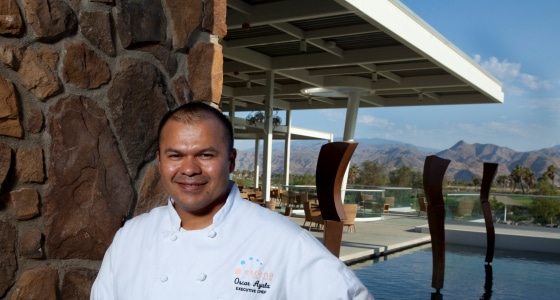 Dining in Palm Springs is nothing short of exceptional. Whether you're looking to dine alfresco at the base of the San Jacinto Mountains under a star-studded desert night sky, prefer breakfast at one of our signature cafes, or look forward to happy hour at one of the numerous poolside lounges at hotel properties throughout the city – you'll find endless ways to tantalize your taste buds.
Here is a list of some of our favorite restaurants: The 6 Coolest Modern Restaurants in Palm Springs. We think you'll find these restaurants to represent some of the best eating and ambiance in the city. Let's take a look.
This stylish yet unpretentious downtown Palm Springs establishment is one that local foodies flock to for its cosmopolitan approach to contemporary continental cuisine with an Austrian flair. Chef Bacher uses his years of experience traveling the world as the inspiration for his subtle, creative dishes. Voted "Best Romantic Dining" and "Best Continental Restaurant" by Palm Springs Life readers, Johannes offers an inviting ambiance, as well as patio dining for pleasant desert nights.
Johannes is located at 196 S. Indian Canyon Dr. Reservations are encouraged and can be made at 760-778-0017.
Often referred to as the place where "Palm Springs Eats' and Drink's," Trio offers a vibrant, desert-casual atmosphere and excellent American modern food at reasonable prices. A true local's hangout, Trio is located in the trendy Uptown Design District and has received praise from local and international critics since it opened its doors in 2009. Here you'll find an extensive menu featuring a variety of fish, steaks, salads and seasonal items. Trio is also famous for its Cocktail Madness happy hour from 11am to 7pm daily.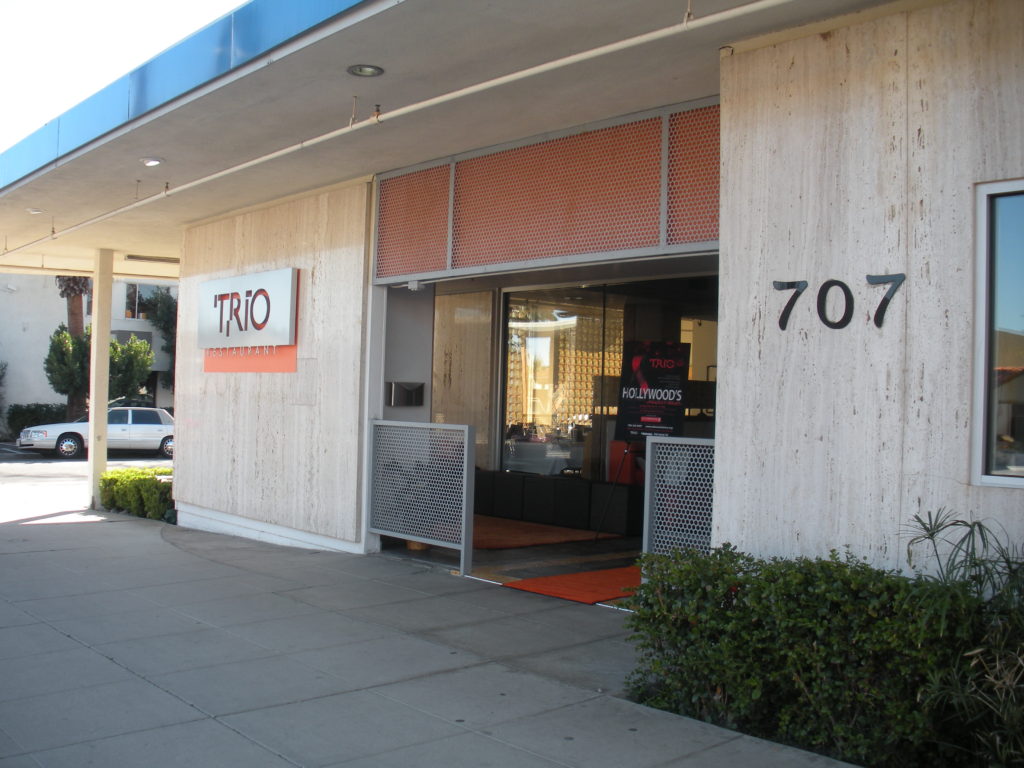 Trio can be found at 707 N. Palm Canyon Drive and via phone at 760-864-8746.
Located inside the Colony Palms Hotel, the Purple Palm Restaurant and Bar is a former 1930s speakeasy that's been transformed into a Moroccan-inspired oasis, with modern graphic touches and vines lining the rooftops. Whether for dinner or their popular champagne brunch on Sundays, the Purple Palm is a must-see on your next trip to Palm Springs or for locals looking to escape the norm. Don't miss their inventive salads and the Purple Palm signature cocktail – a lavender-infused mojito.
The Purple Palm is located at the Colony Palms Hotel at 572 N. Indian Canyon Drive and can be reached at 760-969-1818.
Another popular hotel eatery, Citron is located at the Viceroy Palm Springs. Reminiscent of the style and class of Hollywood's Golden Era, guests are treated to fine dining at this distinctive Palm Springs restaurant set in vibrant, lemon yellow walls and crisp, white furnishings. The Citron menu features California modern cuisine, offering both traditional and unique selections of meat, poultry and seafood. Private dining at poolside and garden pavilions or at Citron's covered and heated patio is the perfect option for Palm Springs' sunny days and balmy nights.
Visit Citron at 415 S. Belardo Rd. or make reservations via phone at 760-320-4117.
5. King's Highway
Located at the Ace Hotel, King's Highway is found inside the bones of an old roadside diner. Today, with a focus on fresh, organic and local ingredients, the owners of King's Highway bring comfort food to a new level. The diner serves breakfast, lunch and dinner well into the wee hours of the morning, and a number of breakfast items are served throughout the day. Chef Brian Kiepler also tends to a garden on the property and uses fresh herbs in his soups, sauces and cocktails. 
You can find King's Highway at the Ace Hotel and Swim Club at 701 E. Palm Canyon Drive or via phone at 760-325-9900.
Positioned at the base of the San Jacinto Mountains, Spencer's is the perfect restaurant for any occasion – a romantic dinner, a business lunch, a special event or an exceptional Sunday brunch. This awe-inspiring location has retained a historically significant mid-century charm inside and out. Spencer's is also known for its air-cooled, tree-shaded patio and for the stunning natural surroundings. Featuring a fresh approach to classic American, European and Pacific Rim cuisine, the restaurant is the perfect blend of stylish elegance and desert-comfort.
Spencer's is located at 701 W. Baristo Road and can be reached at 760-327-3446.