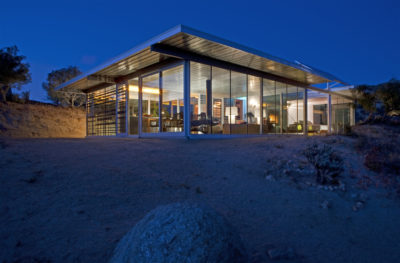 The community of Palm Springs, California boasts one of the highest concentrations of Modernist Architecture in the world, making it a world-famous destination for aficionados of all things Mid-Century Modern. In fact, each February visitors from all over the country flock to Palm Springs to enjoy Modernism Week. In this blog, we'll take a look at the 6 Coolest Mid-Century Modern hotels in Palm Springs and their characteristics. Perhaps you'll stay in one of these exceptional masterpieces on your next visit or getaway to Palm Springs.
Before we delve into the hotels themselves, let's take a look at the characteristics of the Mid-Century Modern style. After the first and second world wars, radically new architectural trends began to emerge in Europe, but the political environment in this region led architects to move to the United States. Their designs, celebrating a simplification of form, emphasized uncluttered lines and technological advancements in materials like steel, poured concrete and sheet glass. By the early 1920s, young architects were bringing these designs to Palm Springs. Often commissioned to create their designs for the wealthy, many of the best examples show a harmonious blend between form and function. Some of the characteristics include post and beam construction to minimize interior support walls, expansive exterior walls of glass with clerestory windows above, concrete floors indoors, decorative gravel ground coverings outdoors, warm colors such as muted orange and turquoise, and a minimalist approach to furniture.
A simple drive down any of the streets in Palm Springs will reveal exceptional real estate, including Mid-Century Modern hotels, in this beautiful architectural style.
Let's Take a Look at the 6 Coolest Palm Springs Mid-Century Modern Hotels
The Riviera is an icon of Palm Springs, where movies such as "Palm Springs Weekend" have been filmed and Hollywood's elite has come to play for decades. Updated in 2008 with a respectful nod to its historic significance and Mid-Century Modern design, this is one of the premier destinations for travelers seeking the best of the Palm Springs luxury lifestyle. Here you'll find more than 24-acres of pristine resort grounds, an exceptional pool scene, glamorous décor and outstanding cuisine. If you're looking for unparalleled relaxation amid the world-class golf, shopping and landscapes of Palm Springs, the Riviera is the place to be! Interestingly, at the time of its opening in 1958, the Riviera was the only hotel in the United States to be built in a spoke-wheel shape, a unique shape which would fit into the psychedelic culture of the 60s because of its communal shape.
The Riviera Resort & Spa is located at 1600 North Indian Canyon Drive and can be reached at 760-327-8311.
Originally known as the "Town and Desert," the Orbit In's Hideaway was Herb Burn's first Inn and was completed in 1947. Burns was the first designer to introduce Palm Springs to the "ultra modern motor court inn," which featured large studio-style rooms with seating areas and kitchenettes surrounding the pool. Offering a modern vibe and luxury appointments, paired with breathtaking mountain views, poolside breakfast and excellent cocktails, Orbit In is the socialite's scene. For those who prefer seclusion and a peaceful retreat, check out its sister property, the Hideaway, which is joined together with the Orbit in one premier location. Designer furnishings, fun amenities and a friendly staff make the Orbit an excellent place to spend your next vacation.
The Orbit In can be found at 562 W. Arenas in Palm Springs and can be reached at 760-323-3585.
3. Movie Colony
The Movie Colony is one of the premier neighborhoods in Palm Springs, famous for the movie stars who flocked here during the 1930s and 1960s. Albert Frey, a renowned designer, had studied under Le Corbusier in Paris before moving to the United States. Soon after, he discovered Palm Springs and fell in love with the desert and the opportunity to create unparalleled Mid-Century Modern architecture. The Movie Colony Hotel was one of his first projects and was very dear to his heart. Years later, it would become a haven for iconic celebrities like Dean Martin, Jim Morrison and Frank Sinatra. Recently the property has been restored to its original grandeur, which continues to draw guests from around the world.
The Movie Colony Hotel is located at 726 North Indian Canyon Drive and can be reached at 760-320-6340.
Designed in 1947 by the renowned desert architect William F. Cody, the Del Marcos Hotel is positioned just one block from downtown Palm Springs and is a hot spot for tourists and locals alike. Here visitors can enjoy breathtaking mountain views, scenic biking and hiking trails, or can simply relax at the hotel's beautiful saltwater pool. During its heyday, this was the classic "adult-only" hotel with just 17 beautiful rooms overlooking the San Jacinto Mountains.
The Del Marcos is located at 225 West Baristo Road in Palm Springs and can be reached at 760-325-6902.
One of the most legendary properties in Palm Springs, the Parker has an amazing appeal that attracts celebrities and visitors from around the world with its ultra-chic modern décor, towering palm trees, lush grounds, and sparkling world-class pools. Once known as Gene Autry's Melody Ranch, this celebrated property has long been documented in some of the world's finest magazines. Today, it is the perfect backdrop for special events and boasts more than 144 guest rooms, four pools, and the exceptional Mr. Parker's fine dining experience.
The Parker can be found at 4200 East Palm Canyon Drive and can be reached at 760-770-5000.
6. The Horizon Hotel in Palm Springs
Known for its low-slung, angular architecture and iconic Mid-Century Modern style, The Horizon was originally designed by renowned architect William Cody in 1952 and renovated later with the utmost care and consideration for its architectural styling. Offering 22 beautifully-appointed rooms and the perfect desert landscape; the Horizon is the ideal Palm Springs boutique hotel experience. 
The Horizon Hotel is located at 1050 East Palm Canyon Drive in Palm Springs and can be reached at 760-323-1858.