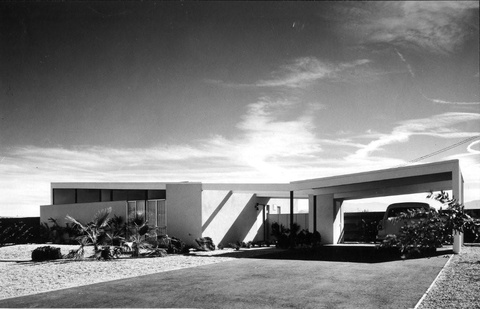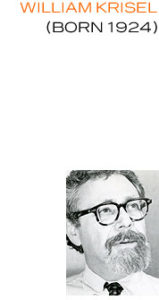 Renowned architect, William Krisel, has designed tens of thousands of homes throughout his long and extensive career. He was a visionary, and his designs represented the defined and spatial sensibility of the geometric style of the modernist design.
William Krisel was born in Shanghai, China in 1924 where his father was a career diplomat. He learned Mandarin and the local Shanghai dialect as a young boy. When the Japanese invaded China in 1937, his family moved to Beverly Hills. He enlisted in the Army at the beginning of World War II. Because of his knowledge of Chinese he became one of General Joseph Sidwell's Chinese interpreters. He returned home after the war, and completed his studies at the University of Southern California, where he received his architectural training. He graduated in 1949 and earned his license in 1950.
In 1950 William Krisel and architect Dan Saxon Palmer became partners. As partners, Palmer & Krisel first pursued custom home designs, but very quickly decided to build tract homes with a post-and-beam design. They finished their first development in 1955. It was Corbin Pines, in cooperation with Alexander Construction Company.
William Krisel, by using post-and-beam style homes integrated his unique style using geometric forms into the beautiful spaces of the California desert. In the1950's, William Krisel built thousands of mass-produced tract homes in Palm Springs, and throughout Southern California. His role was key in establishing the modernism of the area. He worked very closely with builder Robert Alexander to develop very practical, modesly priced, and distinctively stylish homes.
Dan Palmer and William Krisel in their work over the next decade, reflected a desire in making ownership both available and enjoyable. Their single-family tract houses had character and were unique in how they were placed on the lot and in their landscaping, with innovative butterfly roof lines, and very large glass windows. William Krisel and Dan Palmer believed that this would meet the needs of the ever growing population in the middle class.
William Krisel and Dan Palmer were partners with many developers to enhance the areas appeal as a great weekend destination for people living in and around the Los Angeles area. Some of these projects included the Sandpiper Condominiums, Twin Palms Estates, and the Racquet Club Road Estates. In Palm Springs there has been a recent desire with a younger generation to restore Krisel and Palmer homes.
The Butterfly Roof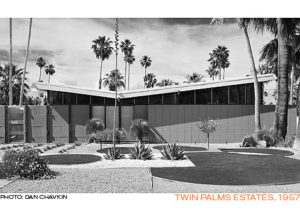 "The roof with two wings" is a very famous description of homes designed by William Krisel in the Palm Springs area in the 50's. It is still one of his most famous roof designs today and very sought after by Mid Century enthusiasts. These designs can be found in the Twin Palms tract of homes.
William Krisel, is a well known prolific designer of the post-war housing boom. He can claim a even greater significance, as one of the few architects with the ability to bridge the ideals of Modernism with home building. Modernism in it's earliest days stood for building in a very practical way, on a large scale, for average people whose lives would be immensely improved by good design.
William Krisel, although retired for 20 years, proved that modest midcentury homes did not have to have a feeling of being small, and were designed with little imagination and felt claustrophobic. His homes were designed with an airy feeling, floor to ceiling windows that opened onto the bright and vast surroundings of the landscape and mountains. His uniquely designed homes featured butterfly roofs encompassing the interior and exterior spaces.
William Krisel at the age of 84 downplayed the importance of style as an end in itself, rather emphasizing instead the ability to build and to live with the design. Despite the fame of his butterfly roofs, "I don't believe in style," he says with much emphasis. He also, doesn't believe in updating his design to keep pace with the latest fashion. William Krisel truly believes that real architecture "has nothing to do with time," but he truly believes that when the idea is correct "there's no need to change it."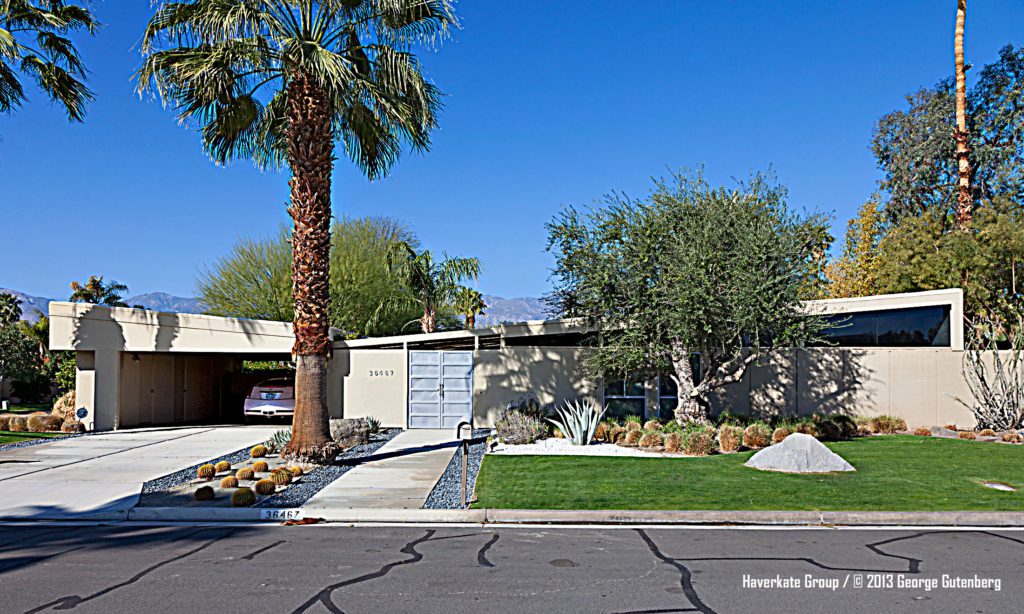 Heidi O'Neal