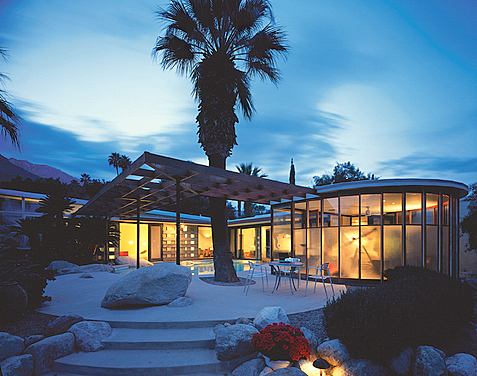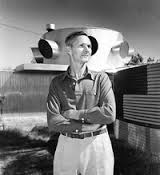 Albert Frey was a believer in modern architecture, a political and social liberation through affordable machine-made designs. His chosen materials were aluminum, glass, and cables. He eventually used boulders and sands of the desert where he lived.
Albert Frey's career spanned more than 65 years. He believed in the principle that architecture should make the most of the least. Some of his best known works were the East Coast houses that he designed with Lawrence Kocher in the 1930's and there were many other notable buildings he created in Palm Springs in the 1940's, 50's and 60's.
Albert Frey was one of the last of a generation of European architects that moved to the West Coast with a vision that the landscape could be a perfect vision for the future modern boom.
Albert Frey was born in Zurich on Oct. 18, 1903. He studied architecture at the Institute of Technology in Winterthur, Switzerland, and received his degree in 1924. He spent about 10 months in 1929, working in the Paris atelier of Le Corbusier.  Albert Frey worked on the detailing of one of Le Corbusier's masterworks, the Villa Savoye.
Albert Frey came to the United States in 1930.  He was convinced that it was the land of opportunity for modernist design. He met Marion E. Cook, a writer, while living in New York in 1938. They were married until 1944.
While living in New York, Albert Frey worked for many well known architects, including Philip Goodwin, one of the architects of the Museum of Modern Art. Albert Frey is credited with helping to design the original Roy and Niuta Titus Theater as well as the museum's distinctive circular cut-out roof deck.  Both are in the restoration process.
In 1931  the Aluminaire house drew much attention to Albert Frey and his partner Mr. Kocher who was the managing editor of Architectural Record. They were Commissioned by the Architectural League to promote modernist ideas for houses.
Albert Frey came to Palm Springs in 1934 to supervise the construction of the Kocher-Sampson building. He fell in love with the area. Albert Frey went to work with John Porter Clark for two years for the firm of Van Pelt and Lind. Neither Albert Frey nor John Porter Clark was yet licensed in California.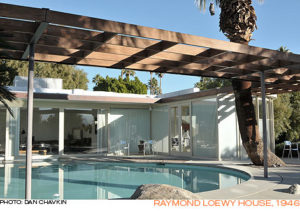 Albert Frey returned to New York in 1937 to work on the Museum of Modern Art. In 1939 he moved back to Palm Springs permanently. He rejoined John Clark in a partnership. Albert Frey designed many commercial, residential, civil, and institutional buildings including the Loewy House in 1946-1947. Many other well known buildings Albert Frey designed, include Palm Springs City Hall, and the Palm Springs Arial Tramway Valley Station.
California modernists
Albert Frey along with John Lautner, became part of a movement of California modernists that emphasized that nature had a central place in modern architecture.
Albert Frey called the desert his true love. When he saw the landscape of the desert he knew that he wanted to call it his home. Albert Frey resided in Palm Springs until his death in 1998, at the age of 95. He was known as the first full time resident architect in Palm Springs and was well known as one of the founders of Desert Modernism.
There are numerous buildings that were designed by Albert Frey that helped make Palm Springs become a Mecca of what has been called a place of leisure modernism such as Miami Beach.
Heidi O"Neal