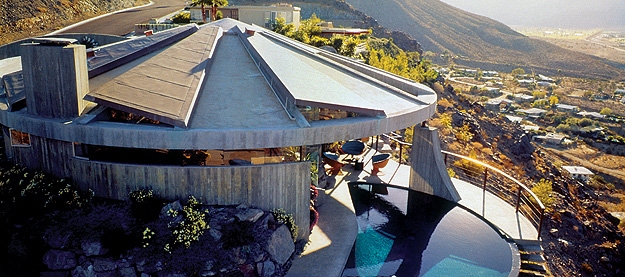 John Lautner apprenticed with Frank Lloyd Wright in his early career. He had no appreciation of the cool severe geometry of his midcentury minimalist peers. He spent his life as an iconoclast. John Lautner was overlooked and miscast by his critics. Many of his best-known design projects such as the Googie Coffee shop on Sunset Boulevard have been criticized as Atomic Age or Hollywood ketch.
John Lautner was born in 1911 in Marquett Michigan. He worked under the direction of Frank Lloyd Wright from 1933 – 1939. John Lautner began his private practice in 1946 in Los Angeles where he boldly experimented with new industrial processes. He would call this his search to answer total basic human needs, physical as well as emotional in shelter.
John Lautner was fascinated with new shapes and structures, but this had nothing to do with the Space Age of the future, Hollywood glamour, or virtuoso engineering, but came as a determination to humanize the spaces of the built world and create endlessly varied organic places. To John Lautner this was a profound and serious agenda.
One of John Lautner's outstanding designs is The Elrod House in Palm Springs. It was designed and built in 1968 for Arthur Elrod, an interior designer. It had all the hallmarks – a difficult site, a rather modest entrance that concealed a soaring space, and rooms that are both inside and out. It also represents the many contradictions of his designs from what had originally been perceived. The Elrod House is memorable for its large and massive domed concrete roof that had wedge-like sections cut out to accommodate for skylights to provide indirect light to filter into the house.
John Lautner designed the home to be shielded from the very intense desert sun. To shield the house, John Lautner designed the roof to rest on curved concrete walls. To add drama, the house has black slate floors, and a swimming pool that is both inside the house and out. There are also, a mass of large boulders in the living room. These boulders were taken from the site when he noticed many exposed boulders on the property.  John Lautner insisted that the contractor dig 10 feet deeper where they uncovered massive rocks that became a very important part of the interior design of the home.
The Elrod House was known by the public primarily as the ultimate bachelor pad from the 1971 James Bond film Diamonds are Forever. It was also used as a location for Playboy photography shoots. Instead of John Lautner being recognized for his emphasis on the relationship between space and nature, the Elrod House was considered a symbol of Hollywood excess for most of it existence.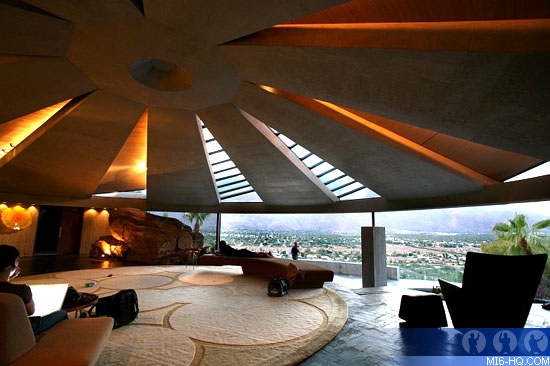 During John Lautner's lifetime, the public and critics did not seem to understand his odd shaped, and back-to-nature designed structures. He retained a longing deep in his soul, for the north Michigan woods of his youth designing homes that were cave-like and open to the sky. John Lautner's career spanned 55 years of daring designs with extraordinary feats of engineering. He once was quoted as saying ("You're wasting your time if you don't know how to hold up a roof!")
John Lautner was faced at times with sites that seemed impossible, extreme climates, and sometimes both, but he was known for inventing solutions time and again. An example of this is In the Elrod House, the massive living room which had floor-to-ceiling glass arranged in a zigzagged curtain wall. A short time after the house was built; a desert sandstorm broke the windows. John Lautner reacted by designing something even more outrageous by installing two 25-foot-wide glass curtain walls that would retract completely opening up the living room to the outside.
This massive and creative house is 8,900 square feet and has been praised for its sense of drama and its relationship to the mountain. Many contemporary critics are warming to John Lautner's designs and consider the Elrod home to be one of the architect's most important works.
Only after John Lautner died in 1994, did his original designs begin to receive attention and recognition as a very important influence on current architects.
Heidi O"Neal