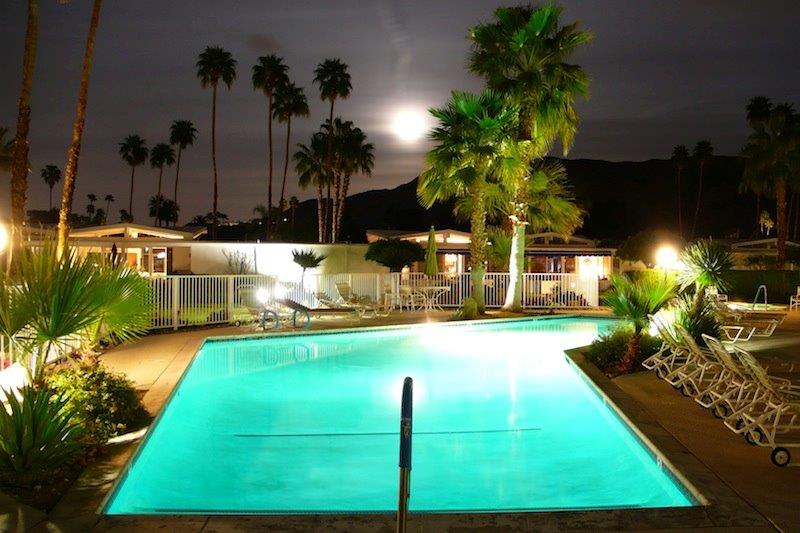 "Palm Springs should be very proud that it is known as the capital of the world for Mid Century Modern architecture," said William Krisel, one of Palm Springs' foremost MCM architects who designed Canyon View Estates for developer Roy Fey in 1962.
Krisel was interviewed for a Palm Springs Life story this month by Lawrence Karol. The feature focuses on two Canyon View Estates homes that have been refurbished by a younger generation of modernists.
This year, as Palm Springs celebrates its 75th anniversary, its prestige as an architectural center is clearly part of the celebration.  Krisel said that Palm Springs, "is the one city in America that really protects that design, advocated that design, and is proud of that design."
A New Generation of Modernists
David and Arianne Keens and Duff Kleiner are the homeowners featured in Palm Springs Life who renovated their Canyon View Estates homes with conscientious regard to design authenticity.
While adding some 21st century green features such as updated electrical, new dual pane windows, LED lighting, bamboo cabinets and quartzite counters, both families wanted to retain the original 1960s style with sympathetic renovations, vintage furnishings and artwork.
As building codes of the time were not so concerned with energy efficiency, those are chief concerns for homeowners upgrading and renovating MCM homes today.
Krisel and Canyon View Estates
Born in 1924 and raised in LA, Krisel, AIA, was principal of the firm of Palmer & Krisel and who designed more than 30,000 dwelling units throughout his career.  In addition to Canyon Estates, his other Mid-century projects include the Ocotillo Lodge, Kings Point, Vista Las Palmas, Racquet Club Estates, Valley of the Moon, and the Sandpiper complex.
Canyon View Estates was built in stages. As the Alexander Construction Company completed each new group of homes, a new homeowners association was created.  Today six HOAs continue to protect the architectural style that gives the neighborhood its distinctive feel.
Each association is clustered around a common pool, spa and greenway.  Some consistent elements of the design include individual carports, native stone on the front exterior, floor-to-ceiling windows, unique rooflines, clerestory windows and patterned cinder block. But subtle differences make each home unique, which is very distinctive among Krisel-designed projects.
While Krisel was pleased with the Keens and Kleiner renovations, not all have met his approval.
"I've seen quite a few of the interiors and I have to say that I'm frankly very, very disappointed with the taste people have and what they do," he is quoted in the story.
"I must say that some of the walls, and changes to the carport, and other things that have been added have not been to my liking.  But that's what the people on the (HOA) board have approved and that's the way it is."
Playing With Industrial Elements, Concepts
Mid-Century Modern design in California is characterized by fun, organic shapes, clean lines, light in feel, yet with bold colors and patterns. Industrial materials such as steel, block and glass also celebrated, in a sense, the mass-production of homes and automobiles, the explosion of which was a trait of that era.
Palm Springs architects also played with unique elements such a decorative cinderblock construction, architectural elements that provide shade, as well as ample use of windows that allowed the desert beauty seamlessly into the home's interior.
Canyon View Estates homes offer classic post and beam construction, vaulted ceilings, walls of glass, patios, and ground level entries.  While they were created primarily as vacation homes, today most are occupied by full time residents.
Some of the other most respected architects of the period active in Palm Springs were William Cody, Albert Frey, Donald Wexler and E. Stewart Williams.  Krisel and his fellow MCM architects works are celebrated every February during Palm Springs Modernism Week.
For more information visit www.modernismweek.com.
The Palm Springs Modern Committee is a non-profit, volunteer organization dedicated to maintaining the heritage of modern architecture and historic neighborhoods in Palm Springs and the entire Coachella Valley.
For more information visit www.psmodcom.org.
Pamela Bieri