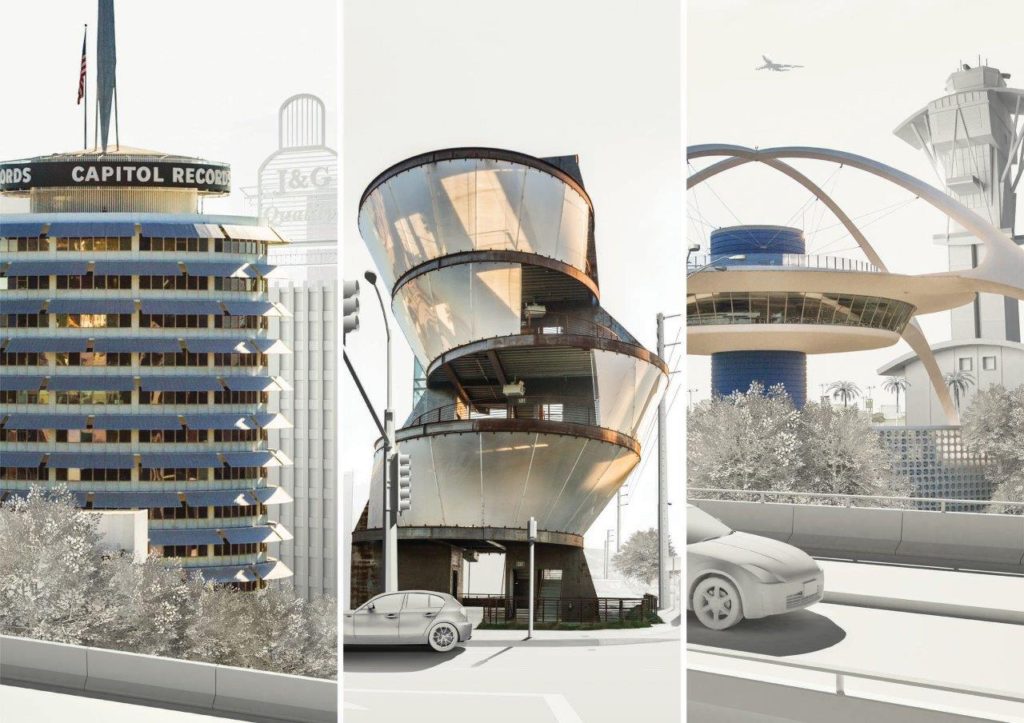 Pacific Standard Time Presents: Modern Architecture in L.A., a scaled down sequel to the first Getty initiative in 2011, is underway in Los Angeles and environs.  The current initiative celebrates Southern California's immense impact on modern architecture with exhibitions and programs by 17 cultural institutions now through July, 2013.
Events are scattered across the city from construction sites to the Schindler House, and from Pasadena to Santa Barbara.
Just opened May 9, Everything Loose will Land, an installment at the MAK Center for Art and Architecture at the Schindler House, makes light of Frank Lloyd Wright's infamous dig: "Tip the world over on its side and everything loose will land in Los Angeles."  In the 1970s, boundaries between L.A.  artists and architects blurred, leading to unprecedented collaborations and innovations. Function and form ceased to be distinct in this exhibit that unites PST's emphasis on architecture and visual design.
In contrast — boxy, ugly, temporary – but artsy? – the maligned prefab construction trailer gets its own photographic exhibit, On-Site Office Trailers: Invisible Architecture of the Urban Environment, open May 17 through June 16 at the Center for Land Use Interpretation.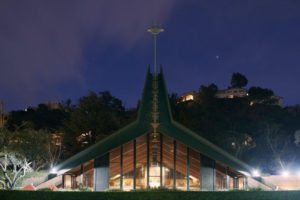 The prestigious Hammer Museum in Pasadena features A. Quincy Jones Building for Better Living, an in-depth look at this longtime L.A. and Palm Springs architect, reveling in his commercial, residential and institutional designs.  In the desert, Jones' most famous work is Sunnylands, the late ambassadors, philanthropists and entrepreneurs Leonore and Walter Annenberg's estate in Rancho Mirage.
Also launching in May is an online exhibition, Form and Landscape: Southern California Edison and the Los Angeles Basin, 1940-1990, as The Huntington mines its vast archives of Southern California Edison's photographs for this curated mini-collection around themes "domesticity" and "noir."
On June 23, pedal down Wilshire Boulevard with several hundred other bicyclists for CicLAvia – Iconic Wilshire Boulevard, as you gaze, car-free, at the landmarks along one of L.A.'s most historic boulevards.
Pacific Standard Time began when more than 60 cultural organizations across Southern California came together to celebrate the birth of the L.A. art scene, 1945-1980.  From October 2011 to April 2012, they told this complex story in a landmark regional collaboration.
To continue the successful momentum and collaborative spirit, The Getty created Pacific Standard Time Presents, smaller-scale productions, until the second major PST offering in 2017 when L.A./L.A. will offer an in-depth exploration of Latin American art and its connections with Los Angeles.
For a complete calendar of events and places visit www.pacificstandardtimepresents.org.
After you have explored the celebrated PST Presents: Modern Architecture in L.A. and return to the desert to pursue your Modernism dreams.  Many of Los Angeles' famed architects made their indelible mark in the desert.
Pamela Bieri