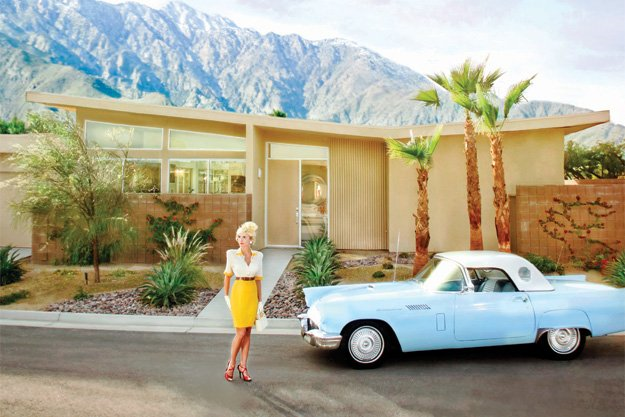 Palm Springs Modernism Week, Feb. 15 – 24, offers a plethora of events, lectures, tours, films and adventures for the novice to the connoisseur.
Modernism Week is a celebration of Mid-Century design, architecture and culture in Palm Springs.  You can begin to absorb the vibe merely by walking around the neighborhoods and along North Palm Canyon's Uptown District.
A number of free events open to the public are designed for the "impulse" visitor who may not have bought tickets in advance, or who are on a tight budget. Here are some options:
Just as Hollywood has its walk of stars, Palm Springs' downtown sidewalks boasts the names of many stars, celebrities, and notables who have contributed to the city in various ways.
Join officials and architectural aficionados on Friday, Feb. 15 as they pay tribute to architect A. Quincy Jones, as his star is added to the walk of fame.  Following the dedication, attendees will have a sneak peak at the Palm Springs Art Museum's Edwards Harris Architecture and Design Center followed by a reception at the Palm Springs Historical Society.
300 S. Palm Canyon, Feb. 15, 2 to 3:30 p.m.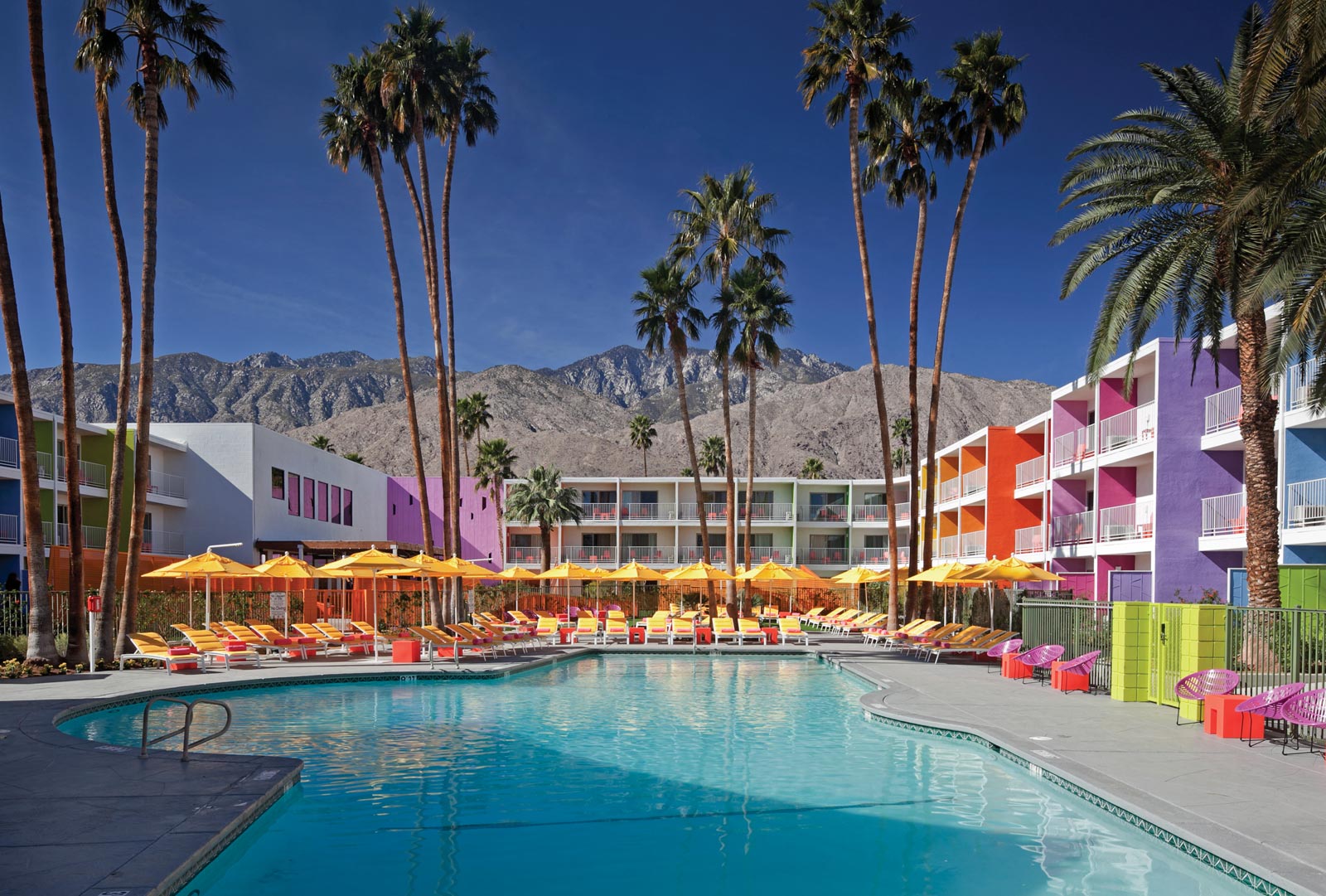 Later that evening, at The Saguaro Hotel, 5 to 7 p.m., join renowned architects Peter Stamberg and Paul Aferiat for a book signing of their Rizzoli-published monograph, Stamberg Aferiat Architecture. The duo is world renowned for their colorful approach to architecture and will be on hand to sign books and give a tour of the multi-hued Saguaro Hotel.  While there, sample one of the hundreds of tequilas at El Jefe along with a street-food taco, or make reservations for a taste of northern Spain at Tinto.
1800 East Palm Canyon, Feb, 15, 5 to 7 p.m.
Afterwards, zip over to m modern Gallery for their annual Modernism Week opening reception, this year called Retro-A-Rama.  An art exhibition features Shag, Tim Biskup, Glenn Barr, Chris Reccordi., Lynne Naylor, BECCA and Phillip Lumbang, RAD, Aaron Marshall, Kevin Kidney and Jody Dailey.  Live entertainment is by the Martini Kings.
2500 North Palm Canyon, Feb. 15, 8 – 11 p.m.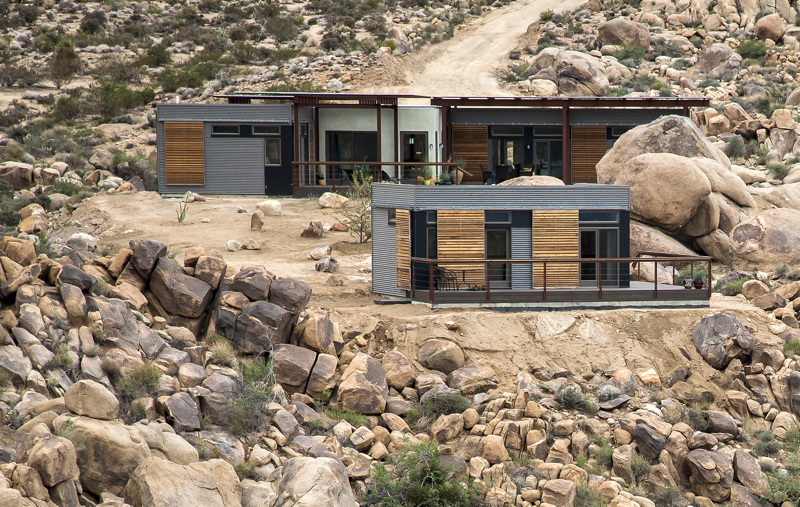 Tour Southern California's first Blu home in the austere starkness of the Mojave Desert at Joshua Tree.  The Disney family is opening this amazing home to the public for Modernism Week.  Admission is free, but RSVP is required.  Parking is not permitted at the house, so take the shuttle from the Sportsman Club.
6225 Sunburst Ave, Joshua Tree, Feb. 17, 23 & 24, noon to 4 p.m.
If it has four wheels and fins, you'll see it at the Vintage Car Show outside the Palm Springs Convention Center on the last day of the Modernism Show, Feb. 18.  More than 65 vintage automobiles, from 1930 to the 1987, will be on display at this casual, free afternoon event.  Chat with car owners and share your passion for vintage automobiles.
277 N. Avenue Caballeros, Feb. 18, noon to 3 p.m.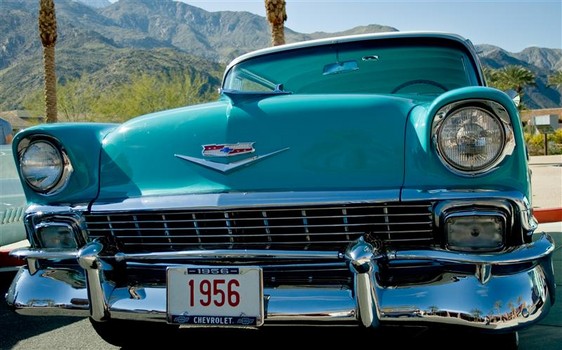 Don't miss the Modern Living Expo showcasing the latest in home furnishings and accessories, smart-home technology, building materials, green living and how-to seminars, Feb. 15-24 in the big tent behind the Hilton Hotel.
Big Tent behind the Hilton Hotel, Feb. 15-24, 10 a.m. to 5 p.m.
Hot Purple Energy, the Palm Springs based alternative energy company, will present its second annual HPE Sustainable Prefab Award to the most sustainable, prefabricated home displayed at Modernism Week's Prefab Showcase, Feb. 14-24.
The award presentation will be Feb. 16 at 1 p.m. on the solar-powered HPE stage at the showcase.  The winning home will be selected for its construction time, materials, waste and systems efficiencies, sustainable energy production, overall cost and aesthetics.
Free to the public, the Hot Purple Energy All Star Band, known for their eclectic freestyle jazz, performs on the HPE stage Feb. 16, 17 & 23 from 10 a.m. to 4 p.m.
Prairie Schooner Parking lot at Calle El Segundo and Andreas, Feb. 14-24.
Modernism Week, the Expo, Showcase and myriad related events are sure to leave you feeling culturally enriched and inspired to own a piece of Palm Springs Modernism history.
Modern on the Market is a free self-guided tour of Mid Century Modern open houses on Saturday, Feb. 16 for Palm Springs and Sunday Feb. 17 for Rancho Mirage, Palm Desert, and La Quinta, hours from 11 a.m. to 4 p.m. both days. Tour map is available at
http://www.palmspringslife.com/Palm-Springs-Life/Desert-Homes/February-2013/Modernism-for-Sale/
Pamela Bieri