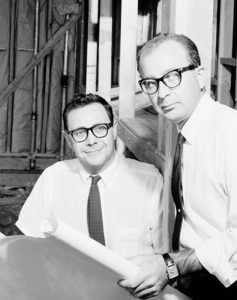 The Getty Research Institute in Los Angeles, one of the foremost libraries of mid-century modern architecture, recently announced its newest archive containing the William Krisel papers.  The collection consists of drawings, photographs and written documents that illuminate one of the region's most prolific architects.
Krisel and his partner Dan Palmer — in collaboration with such developers as George Alexander, Leonard Drogin and J.C. Dunas — were responsible for some 40,000 homes in Southern California, particularly known for their iconic butterfly roof tract house designs.
Krisel brought the aesthetics and values of California's casual indoor-outdoor living to the masses.  Krisel & Palmer tract homes were affordable and well constructed, and exemplified the building boom of the post-war era in Los Angeles, San Diego, and the Coachella Valley.
While Krisel 's architectural studies at the University of Southern California were interrupted by World War II, he graduated in 1949, earned his license in 1950, and partnered with Hungarian-born Dan Saxon Palmer that same year.
Initially their firm, Palmer & Krisel, pursued custom home clients, but as the suburban housing market began to grow, they soon turned to experimenting with modular post-and-beam construction.   Their first major project, Corbin Palms in the San Fernando Valley, was built by the Alexander Construction Company in 1955.
The Corbin Palms tract map is part of the archives at the Getty Research Institute.
The Alexander Company brought Palmer & Krisel to work in Palm Springs in the mid 1950s. Palmer & Krisel's most important works here include the Twin Palms Estates and Racquet Club Road Estates in Palm Springs and the Sandpiper condominiums in Palm Desert.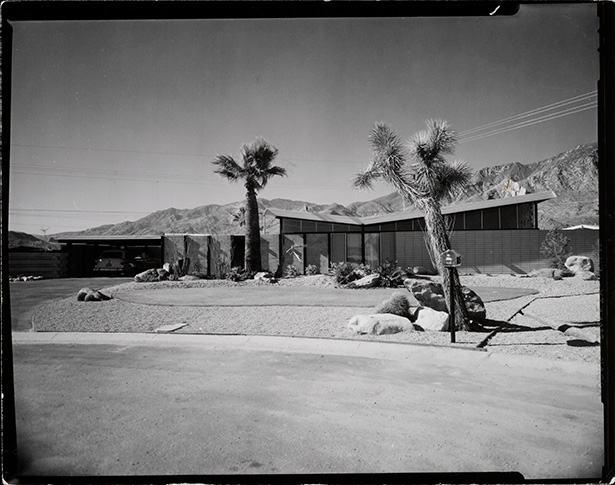 Besides the Alexander homes,  the firm partnered with a number of other developers who also aimed  to anchor Palm Springs as a weekend get-away destination, marketed to Los Angeles residents.
www.palmspringsneighborhoods.com
Palmer & Krisel's work reflected the postwar notion that home ownership for the middle class American should be both accessible and enjoyable.  Their single family tract homes were characterized by the iconic butterfly roof lines, large glass windows, minimal ornamentation, and situated on unique sites amid lush landscaping.
Krisel's elaborate renderings show his standardized layouts with avante garde exteriors and residents at leisure activities outdoors, apparently a distinct component of the firm's designs.  Krisel's vision to incorporate indoor-outdoor living clearly expressed the optimism of the postwar era.
Interestingly, the archives also document the revival of interest in restoring and renovating Palmer & Krisel homes in Palm Springs.
The Krisel archives are the latest addition to GRI's regional postwar architecture collections, joining the John Lautner papers, Ray Kappe papers, the Julius Shulman photography, and Pierre Koenig papers and drawings.  The collections offer new discoveries and insight that gives even more critical weight to mid-century modern design in Southern California.
Access the Krisel and other mid-century papers at the Getty Research Institute, 1200 Getty Center Drive, Suite 1100, in Los Angeles by appointment.
The Getty Museum's exhibit on postwar architecture in Los Angeles, "Overdrive: L.A. Constructs the Future, 1940-1990," April 9-July 21, will show several of Krisel's drawings.  "Overdrive" is part of Pacific Standard Time Presents: Modern Architecture in L.A.
www.pacificstandardtimepresents.org
For a personal tour of Palmer & Krisel homes currently on the market, contact Agent@TeamHaverkate.
Pamela Bieri
Photo caption one: William Krisel and Dan Palmer in 1958. Julius Shulman photography archive. The Getty Research Institute, 2004.R.10
Photo caption two: Twin Palm Estates tract, Palm Springs, designed by Palmer & Krisel. Photo: Julius Shulman. Julius Shulman photography archive. The Getty Research Institute, 2004.R.10