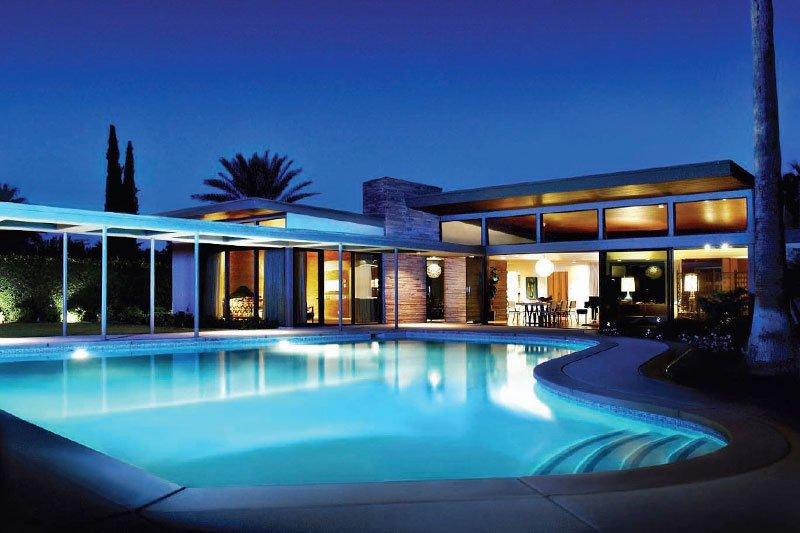 Get ready for Modernism Week 2013, February 14-24, for 11 days of parties, a retro fundraiser, bus tours, lectures and the Palm Springs Modernism Show & Sale.
Palm Springs Preservation Foundation just unveiled four events including PSFP board member Gary Johns' acclaimed free lecture Lost, Saved & Endangered: Modernist Architecture in Palm Spring; the always popular tour of Frank Sinatra's Twin Palms estate; a new tour of three steel homes; and the signature Retro Martini Party fundraiser.
Steel Modern After All These Years, a fascinating and educational new tour, features three steel houses built in 1937, 1962 and 2012:  A rare and remarkably intact early steel house by General Houses (Fisher, 1937); one of the iconic Steel Development Houses (Wexler& Harrison, 1962); and a new steel house constructed by Blue Sky Building Systems (O'Donnell, 2012).  The Wexler/Harrison house was recently placed on the National Register of Historic Places.
Tour goers will receive a scholarly 6-page tour booklet describing the architectural importance of these extraordinary houses.  Light refreshments will be served at the last house on the tour. The tour is on Tuesday, Feb. 19, from 10 a.m. to 2 p.m.  Tickets are $65 per person
Gary John's entertaining and informative Lost, Saved & Endangered lecture – replete with amusing anecdotes and rarely seen vintage photos  — takes place on Wednesday, Feb. 20, 8:30 to 10:30 a.m. at the Palm Springs Woman's Club, 314 South Cahuilla Road.  A continental breakfast will be available. The lecture is free, but reservations are required at info@pspreservationfoundation.org.
Join the tour of Frank Sinatra's Twin Palms estate, designed in 1947 by modernist architect E. Stewart Williams, on Thursday, Feb. 21 from 10 a.m. to 2 p.m.  The home was designated a Class 1 historic site by the City of Palm Springs in March 2011 as a  "great midcentury design combined with Hollywood lore."  Each session will include a brief talk about the architect and history of the house.  Tickets are $35 per person.  At purchase, choose one of four tour start times.
PSPF's sell-out event,  the Retro Martini Party, is on Friday, Feb. 22 from 5 to 8 p.m.  This year, the internationally acclaimed  Abernathy House in the Movie Colony neighborhood, designed by architect William F. Cody in 1962, will be showcased for the organization's most important fundraiser.  This is the perfect opportunity to wear your finest vintage attire.  Tickets are $125 and benefit PSPF.
Visit www.pspreservationfoundation.org for tickets.
The Palm Springs Modernism Show & Sale is another highlight from Feb. 15-18 in the Palm Springs Convention Center.   Visit the PSPF booth where board members and volunteers will be on hand to talk about the foundation's education, grant and advocacy programs.  There will be discounts on the PSPF's tribute journals.
For a full schedule of events, visit www.modernismweek.com
After you've visited the Modernism Show & Sale, taken one of the double-decker bus tours, sipped cocktails at Frank Sinatra's estate, and strutted your own retro glam at the Abernathy House, maybe you're ready to buy one of the vintage, refurbished or new Mid-Century Modern homes in the Palm Springs area.
Pamela Bieri