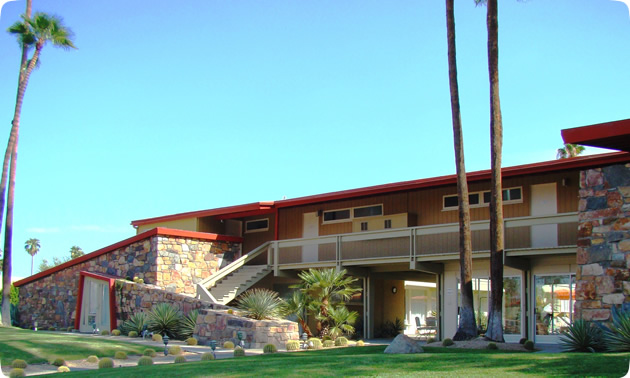 There is much Modernism to celebrate in the California desert, and things get underway in October  when seasonal temperatures drop to warm days with cool, balmy evenings.
The Palm Springs Preservation Foundation recently celebrated Del Marcos Hotel's Class 1 Historic designation with a tour and ceremony.  The hotel was designed by William Cody in 1947 for then-owners Samuel and Adele Marcus.  Current owner are Lars and Kelly Viklund.
Built of native stone and redwood surrounding a swimming pool, special architectural features include an "organic" asymmetrical  entrance doorway and floor to ceiling glass.  The two-story hotel features luxury suites in a U-shaped plan centered around a courtyard that encourages guests to socialize.
It's style and design is said to have been inspired by  Frank Lloyd Wright's Arizona architecture, and won a creative design award from the Southern California  chapter of AIA as an example of cutting-edge resort architecture.
Del Marcos Hotel is historically important as Cody's first independent commission in Palm Springs, an award winner that helped launch his career in the desert.  The Class 1 Historical designation became official in May by the Palm Springs City Council.
The 16-room modernist hotel is located at 225 West Baristo in Palm Springs  historic Tennis Club district.
www.pspreservationfoundation.org/del_marcos.html.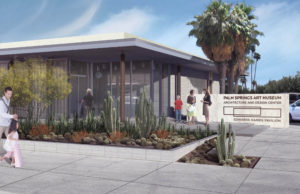 The Palm Springs Art Museum was awarded the Community Enrichment Award by the Palm Springs Modernism Committee for its efforts to rehabilitate the historic former Santa Fe Federal Savings and Loan bank building and transform it into the new Palm Springs Art Museum Architecture and Design Center, Edwards Harris Pavilion.
The board of directors decided to help fund the building's rehabilitation with a $25,000 pledge, joining other founders for the building.
"We are honored to receive this award from such a prestigious preservation organization," said Architecture and Design Curator Sidney Williams who accepted the award on the museum's behalf.
"PS ModCom has a long history of honoring organizations and individuals who have contributed to preservation of the historic buildings in Palm Springs, so we are thrilled that the group not only recognized our efforts to transform this significant building into a world-class center for architecture and design, but also believes in our vision so much that they have decided to join or circle of founders."
Marmol Radziner, the architecture firm overseeing the project, will involve a major rehabilitation to transform the 1961 E. Stewart Williams-designed former bank into a museum dedicated to modern architecture and design.
When the rehabilitation is complete, it will be the country's first free-standing architecture and design museum housed in a Class 1 Historic structure.  Scheduled to be completed in spring, 2014, the opening is planned to coincide with the museum's 75th anniversary festivities.
The Palm Desert Museum's Architecture and Design Council (ADC) will hold its annual welcome back event on Saturday, Oct. 27 at the recently completed, cutting edge, contemporary Gilbert-Troost residence.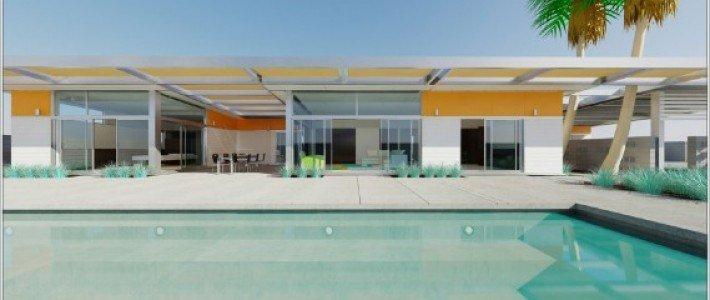 The 1,700 square foot three-bedroom, two-bath, all steel residence was designed by Lance O'Donnell and Martin Brunner of o2 Architecture and built by o2 Build/Barton Construction in partnership with Blue Sky Building Systems.
Cost to attend the event is $60 per person for ADC members and guests.  Contact ADC coordinator Paul Ortega at (760) 322-4818 or portega@psmuseum.org.
www.blueskybuildingsystems.com
Pamela Bieri