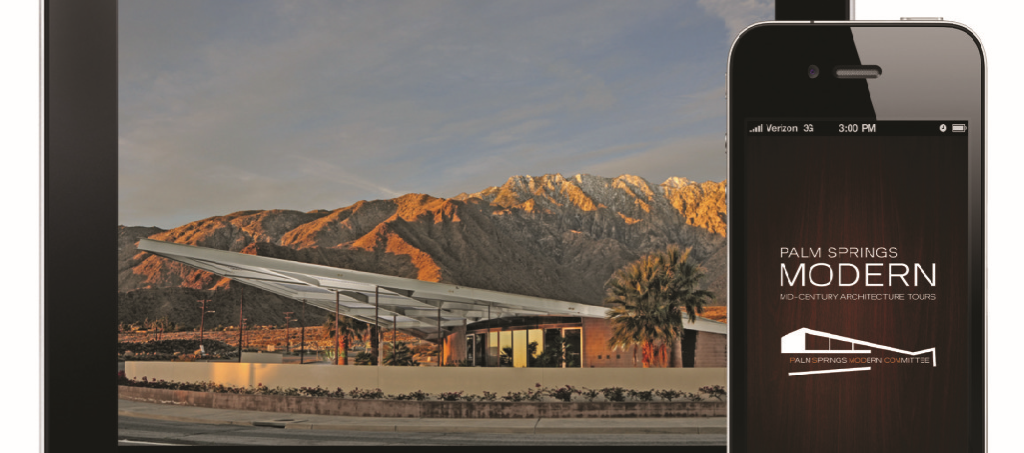 Palm Springs Modernism is alive and well this fall as a new architectural tourism App is launched in September, Palm Springs Modernism Week kicks off with its new MODSHOP store space at the Raymond-Lawrence Gallery, and aficionados can get early taste of Modernism Week in October during DOCOMOMO, a national tour day.
Whatever's APPropriate
In a timely collaboration with Palm Springs Life Magazine, the Palm Springs Modern Committee (PSModCom) launched a multi-platform electronic application, Palm Springs Modern: Mid-Century Architecture Tours, now available from the App Store for iPhone and iPad and from Android Market.
The $5.99 tour app is in HD-720p format and features three tours of over 80 architecturally significant modern homes and commercial buildings throughout the greater Palm Springs area.  The APP also presents in-depth profiles of 12 leading Modern architects whose contributions have shaped the architectural landscape of Palm Springs.
"Architectural tourism has become such a major economic engine that we believe this App will be enormously popular with both visitors and local residents seeking to learn about Palm Springs' enviable cache of mid-century modern architecture, " said Chris Menrad, PS ModCom president.
The App is authored by Modernism expert and preservationist Robert Imber, operator of Palm Springs Modern Tour, with photography by Julius Shulman, Dan Chavkin and others.  It's narrated by architectural historian Peter Moruzzi, PS ModCom founder and writer/producer of the documentary Desert Holiday and author of the book, Palm Springs Holiday.  The App features tours of select properties which are enhanced by contemporary high quality, high definition video.
Founded in 1999, PS ModCom is a non-profit forum for maintaining and promoting the heritage of modern architecture and design in Palm Springs and Coachella Valley.
Palm Springs Life Magazine engages readers with topical monthly articles, including richly drawn celebrity profiles, intelligent features on contemporary culture, art, architecture, and lifestyle trends; a who's who on the desert's vibrant social scene; and the ultimate guide for what to do, where to go and what to wear.  The magazine is published monthly by Desert Publications, Inc.
More on Modernism Week
Palm Springs Modernism Week launched its MODSHOP space at the new Raymond-Lawrence Gallery in the Uptown Design District recently with a celebration.
The MODSHOP features a variety of private label and branded Modernism Week items and exclusive products available for purchase.
"We are really excited about the launch of our MODSHOP," said Modernism Week Chairman Jacques Caussin.  "It will be a one-stop shop for the public to buy event tickets, receive information and collateral materials, and to purchase a brand new line of Modernism Week products that we are producing specifically for MODSHOP."
The MODSHOP offers a limited edition of collectible posters and art pieces designed to capture the essence of Modernism and Palm Springs.
For the second year, Palm Springs Modernism Week organizers are giving fans an early taste of the 11-day February event as they participate in DOCOMOMO National Tour Day on October 8.  But they have built even more fun beyond the single tour day with four days of celebrations, Oct. 5-8.
DOCOMOMO is an acronym for the international organization devoted to  the DOcumentation and COnservation of buildings, sites and neighborhoods of the MOdern MOvement.  DOCOMOMO promotes the study, interpretation and protection of the architecture, landscape and urban design of the Modern Movement.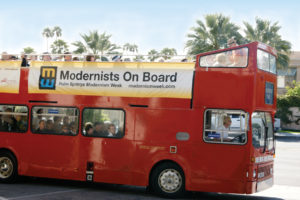 As it did last year, Modernism Week organizers offer its most popular event, the Modernism Double Decker Architecture Tour buses Friday Oct. 5 through Sunday, Oct. 8 with various departure times.
A bevy of other activities include the Annual Preservation Awards luncheon, hosted by PSModCom, Saturday. Oct. 6, noon to 2 p.m. at the Palm Springs Hilton Hotel; and a Modernism Week cocktail party in a private home that evening from 5 to 8 p.m..
On Sunday, 10 a.m., the Palm Springs Preservation Foundation presents, "Lost, Saved and Endangered: Modernist Architecture in Palm Springs," a lecture at the Palm Springs Women's Club.  Later, the group hosts a Class 1 Historic Site recognition reception at the Del Marcos Hotel at 3 p.m.
Tickets are now on sale for all of Modernism Weeks DOCOMOMO events at www.modernismweek.com.
Palm Springs Modernism Week, a non-profit organization that produces the annual 10-day festival in February, is a celebration of mid-century modern design, architecture and culture.  The festival features more than 75 events including home tours, films, lectures, fashion and swank receptions at locations rarely seen by the public.
As the only such event when it launched in 2006, Palm Springs Modernism Week has helped fuel a national interest in the preservation and appreciation of modernism.
The 8th annual Palm Springs Modernism Week will be February 14-25, 2013.
Pamela Bieri