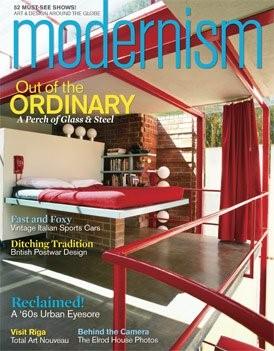 Mid Century Modern architecture and design aesthetics have been re-embraced by baby boomers whose childhoods were shaped by those times, as well as embraced by the next generation.
Growing global  appreciation of Modernism's uncluttered clean lines, bold, forward thinking architecture fits well with today's concern for environment and sustainable practices.
A host of national and international magazines and websites offer in-depth resources for Mid Century Modern homes, furnishings, accessories, and design resources.  We scoped out a few that really speak to the subject:
Modernism Magazine, a quarterly magazine about 20th century modernist design, ranges from the Wiener Werkstatte and the Bauhaus thinkers to Memphis and beyond covering Art Deco, mid-century pop and postmodern design.
For example, a recent feature on John Lautner's Elrod House in Palm Springs is seen through the lens of photographer Leland Lee, whose photos of this groundbreaking home still resonate 40 years later.
Cover story on the Allyn Morris House (1958) in Los Angeles explores this first solo project for the then-young architect which was innovative in structure, materials, space planning, and color.  A photo shows a floating spiral staircase against a glassed balcony connecting two levels.  Although the photo doesn't show the view from the balcony, it presumably overlooks Los Angeles.
Another great resource, Dwell Magazine and website focuses on modern homes design and architecture.
Some of the interesting topics include revisiting Marimekko's iconic fabric patterns, in production since the 1950s, and a look at DuPont's Corian design studio for practical and durable solutions to modernism-inspired homes.  The magazine also reviews new products and covers major MCM home tours throughout the country.
The current issue also highlights the magazine's recent annual Dwell on Design (DOD) conference in Los Angeles naming design award winners and its many vendors.        www.dwell.com
Architect magazine, a publication of the American Institute of Architects, offers another great resource for new technologies, materials, and design projects throughout the world.
A recent spotlight on the London 2012 Olympics focused on the premise that London was also competing in front of the world as its Olympics infrastructure and architecture were tested by the world's largest sporting event.
The publication also noted a ceremony honoring "Architects of Healing;" the restorative power of planning places of remembrance in post 9/11.   www.architectmagazine.com
Brisbane Modern, a new independent publication, explores mid 20th century design, art, architecture and furniture in Brisbane, Australia, in a way that is "sleek, uber-cool and informative."
Contributors are local architects, writers, collectors and designers that celebrate the diversity of mid 20th Century Brisbane.   www.brisbanemodern.com.au
Those looking for high quality modern furnishings in California may want to check out Modern Studio Furnishings, a Laguna Beach enterprise that provides a creative environment showcasing  modern aesthetic products with traditional customer service.
Their collection includes furniture solutions for today's modern living from sofas and sectionals to dining tables and chairs to entertainment centers plus rugs, lamps, and accessories.
There is an online order form for direct shipping or store location.www.modernstudiofurnishings.com
Modern furniture for office, dining, kitchen, bedroom and outdoor living is the focus of All+Modern, an online resource at www.allmodern.com.
The Boston, MA-based company features Nanimarquina, Emeco, Innovation, Fatboy, Kartell, Gus and Artemide brands.
Palm Springs and the California desert possess one of the country's largest collections of Mid Century Modern homes designed by master architects Albert Frey, John Lautner, E. Stuart Williams, Donald Wexler, William Krisel and many others.
Pamela Bieri