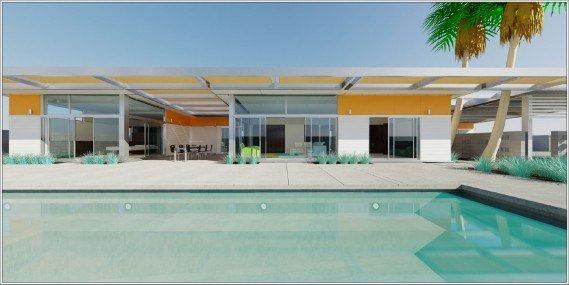 "Today, people think of a large box looking like a trailer when you say 'pre -fab home,'" said David McAdam of Blue Sky Building Systems. "But pre-fabricated steel homes really started with Don Wexler in 1961 when he built six or seven steel houses in Palm Springs.  The pre-fabricated steel pieces were brought in and assembled on site."
www.blueskybuildingsystems.com
Working with Lance O'Donnell's o2 Architecture firm, Blue Sky Building System is just completing the first steel pre-fab home in Palm Springs since the 1960s.
The 1,700 square foot home for clients Brett Gilbert and Glenn Troost replaces a distressed 1930s home that had been "badly bastardized and highly compromised" in the Ruth Hardy Park area.  O'Donnell suggested the concept.
"In the case of this house, the question was why remodel an existing structure with all its problems when you can replace it with an energy-efficient home for about the same price," said O'Donnell in a recent Desert Sun story.
www.mydesert.com/article/2012510
The three-bedroom, two bath house has sliding glass doors and clerestory windows on the west-facing great room and kitchen to take advantage of the mountain views, infinity pool and sheltered back deck which can double as an outdoor living space.
"The cost (for construction) is close to cost of the traditional stick frame house," said McAdam. "The biggest cost savings is that we finish in eight weeks where the typical stick frame house takes up to eight months, potentially saving thousands of dollars in bank construction loan interest."
The steel frames and walls are pre-fabricated, bar coded and labeled for placement, arriving at the site just in time for placement. "We don't waste time cutting or fashioning the pieces," said McAdam. "And we don't have to fall all over any unnecessary pieces at the construction site, or pick through it trying to find the right part. Everything comes ready to be installed, like a giant Erector set."
Blue Sky Building Systems works with some 10 different architectural firms in California. The firms' designs are based on Blue Sky Building's steel frame and wall systems.
The frame is made from cold-formed, high tensile galvanized steel and structural steel components.  The post, beam and joist design is bolted together and then bolted to footings or caissons depending the site's steep or flat grade. Blue Sky Wall is a steel thermal efficient panel system (S.T.E.P.) using polystyrene and light gauge, thermally broken steel studs.  The two elements are extruded together and come out in four-foot wall panels that are cut to the desired length and angles in the factory.
Panels arrive on site pre-cut for door and window openings.  The panels are fitted end to end with tongue-in-groove slots and are screwed into top and bottom tracks which are affixed to the frame. A single worker can carry, place and attach the panels.  Pre-cut chases in the steel studs allow for electrical and plumbing feed lines to be run inside the walls.
Drywall or other interior wall materials are attached to the inside of the stud face.  Exterior siding is screwed to the panels at each stud. The finished wall has R-28 insulation rating.
Because there are no interior load-bearing walls, homes can be configured in endless possibilities.
Two more Blue Sky steel home projects are slated for Palm Springs, said McAdam.  This will bring four to the desert area including another designed by o2 Architecture in Yucca Valley.  "We built a 5000 square foot home in Malibu that has a New England style," said McAdam. "Not all steel frame homes have to have a Modernist aesthetic."
Although a 5000 square foot home designed by Taalmankoch currently under construction in Carmel Valley, and another in Santa Monica by architect Jim Jennings, both have modernist designs, said McAdam.
Modernist design is re-emerging in the desert landscape with the additional advantage of using environmentally friendly materials and construction, and the latest energy efficient technology.
Pamela Bieri