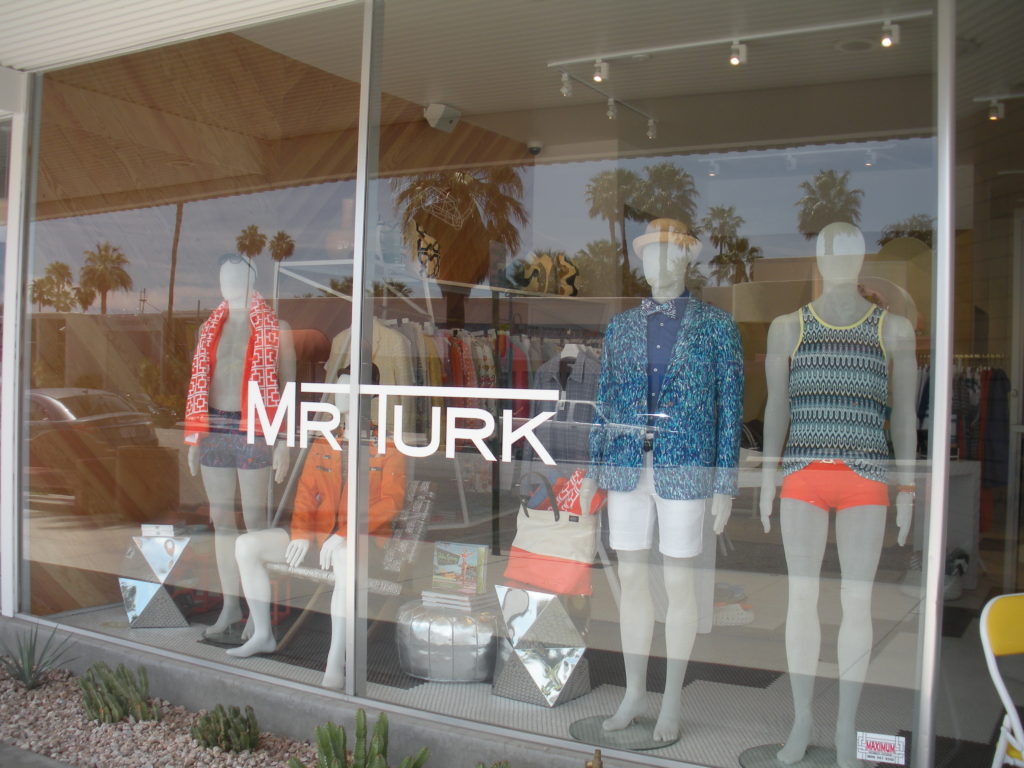 Uptown just got more "up!"
Two grand openings last week celebrated the new Mr. Turk, Trina Turk's newest expansion with colorful men's clothing and apparel at 891 North Palm Canyon, and an innovative new 'pop-up'  concept at Raymond|Lawrence, 830 North Palm Canyon Drive, created by the dynamic design duo, Larry Abel and Raymond McCallister.
Another new furnishings, design and art gallery, Flow Modern Design, opened its doors recently at 768 North Palm Canyon ago replacing A La Mod which moved to larger digs a few doors up at 844 North Palm Canyon.
Calling their store a "retail incubator," Raymond|Lawrence features home decor, furniture, accessories, textiles and bedding, men's and women's fashions, jewelry, and shoes along with private concierge, real estate and interior design services – all under one roof with some already established entrepreneurs.
"The incubator will provide an integral took to help us foster the growth of design and lifestyle-oriented businesses that are new to Palm Springs and will bring even more variety to the uptown design district," said Abel.  "The synergy of the District has been building for quite some time now, and we feel this concept will help solidify the area's reputation as yet another thriving component of the current Palm Springs renaissance.  This is all about fostering creativity, uniqueness, an entrepreneurial spirit and exclusivity."   www.raymond-lawrence.com
Trina Turk's Palm Springs boutique originally opened in 2002 with a cool white interior, retro mirrored walls and flowing curtains, designed by Kelly Wearstler.  The shop then expanded twice more taking the spaces next door for Turk's line of home furnishings, swimwear, and now men's wear.  Her bold, bright, fun fashions are definitely turning men's heads.  Oranges, pinks, lavender, summer blue and chartreuse are vivid in fashionable jackets, shorts, shirts and even bow ties.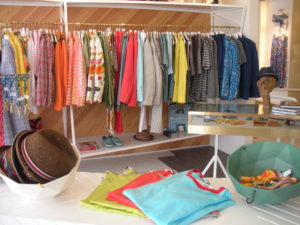 "I just love that Trina has turned her attention to men's clothes," said Joe Enos, a well known local public relations professional who was trying on espadrilles to match a wild patterned jacket he just bought to wear at Mr. Turks and Raymond|Lawrence grand openings.   www.trinaturk.com
Brigitte Lehnert, co-owner of Flow Modern Design with her husband Andre  Blaise Boughtwood, have been in the interior design business for nine years in Los Angeles with projects across the country.  Their professional background in photography gives them a unique approach.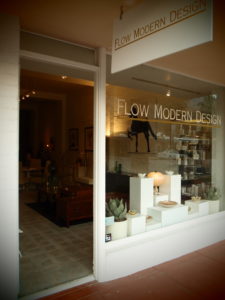 Moving to Palm Springs and opening the North Palm Canyon store has meant going full steam ahead with vintage Mid Century Modern furnishings by known and lesser known designers — Baughman, Drexel, PACE, Master Craft among them — plus quality vintage jewelry and artwork and interior design services.
"This is not retirement for us," said Lehnert.  "It's full on commitment, and it's fun.  Another new aspect is that we are opening our store up to local artists to show their works."   www.flowmoderndesign.com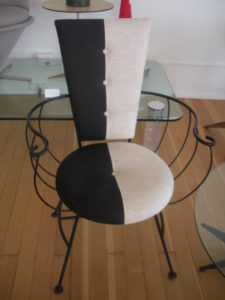 Meanwhile, A La Mod has taken over the former water company's vintage 1930s Spanish style building. From the bright, roomy store front, a long meandering corridor leads to rooms full of vintage pieces by such as Mies Van der Rohe, George Nelson, Milo Baughman to a pair of custom made James Callahan 1980s couches taken from a Palm Springs little Tuscany estate.  A La Mod consignments is owned by James Claude and Miguel Linares.   www.ALaMod768.com
These new retail innovations join many more contemporary and 20th Century Modern design and furnishings outlets in Palm Springs' burgeoning Uptown District including:
Boulevard, 800 N. Palm Canyon, (760) 832-9011, www.boulevardps.com
Christophe Anthony, LTD,  800 North Palm Canyon, (760) 322-0600, www.christopheranthonyltd.com
House 849, 849 North Palm Canyon, (760) 325-7854, www.house849.com
Insolito Home, 901 North Palm Canyon, (760) 325-0275, www.insolitohome.com
Just Fabulous, 515 North Palm Canyon, (760) 864-1300, www.bjustfabulous.com
Shag, the Store, 725 North Palm Canyon, (760) 322-3400, www.shagthestore.com
Retrospect, 666 N. Palm Canyon, (760) 416-1766
M Modern,  2500 North Palm Canyon, (760) 416-3611, www.mmodern.com
Over the years, Palm Springs Uptown Design District has become a world renowned destination for decorators, designers and aficionados seeking the unique, eclectic and eccentric.  The vintage and modern furniture stores, fashion boutiques, and art galleries celebrate Palm Springs famed Mid Century Modernist roots.
Pamela Bieri