Palm Springs Modernism Week is one of the country's most popular annual events for architects, modernism art and design fans, and mid century modern culture buffs.
The seventh annual Modernism Week, February 16-26, 2012 brings thousands to Palm Springs for 11 days of double-decker bus tours, lectures, films, exhibits, a vintage fashion show, and parties that celebrate the architecture and culture of the 1950-60s era. Modernism Week offers more than 75 events including some firsts for the Coachella Valley.
Visitors and residents alike are looking forward to the first public tours of the renowned Sunnylands Estate, the historic Annenberg residence and grounds and the new Sunnylands Center & Gardens. The late Lenore and Ambassador Walter Annenberg lived at Sunnylands some five months a year during which they entertained United States Presidents, British and other royalty, international political figures, cultural and entertainment icons.
The 1966 Mid-Century Modern residence was designed by A. Quincy Jones with interiors by William Haines and Ted Graber. The 25,000 square foot home, located in the middle of landscaped grounds and a private Dick Wilson designed golf course, has been restored over the past two years in anticipation of the estate and grounds becoming public.
The Annenberg Retreat at Sunnylands will present and host a variety of high-level conferences, retreats and seminars of issues of national and international importance. The Modernism Week guided tours will provide the first peek into the 200 acre pink walled estate that has fascinated passersby for decades.
The tour will also feature the newly constructed Sunnylands Center & Gardens, which will officially open to the public March 1.
A variety of public tours will include studies of the art and sculpture collection, interior design and architecture of the Sunnylands home. History and political science buffs can delve into the 20th century cultural landscape through films, videos and publication detailing the historic events of the time and the role the Annenbergs had in shaping the world.
More information may be found online.
www.sunnylands.org
On Feb. 16, kick off Palm Springs Modernism Week at a tres chic soiree at John Lautner's iconic Elrod House perched upon the Southridge hills overlooking Palm Springs. Just steps away is the late Bob Hope's famed dome-shaped hilltop manse.
Instantly recognizable from the 1971 James Bond film Diamonds Are Forever, the Elrod House offers many Lautner hallmarks: A difficult site in a harsh environment, a modest entrance that conceals its soaring interior space, and rooms that meld indoors with the outdoors. The 8,901-square foot house incorporates an interior/exterior swimming pool in the living room and expansive mountain and desert vistas.
The home was built for interior designer Arthur Elrod and a portion of the tour proceeds benefit the LA-based John Lautner Foundation. This is a rare opportunity to see this privately owned masterpiece home.
Another new event during Modernism Week will be a Modernism Prefab Showcase Village featuring cutting-edge prefab structures with the latest alternative energy ideas incorporated into the 21st century lifestyle. Each room, designed by a different notable interior designer, showcases sophisticated design aesthetics and advanced technological innovations.
A number of cocktail receptions will be held during the week at intimate settings and at some of the area's most notable boutique inns, a perfect way to wind down an exciting day of Modernism.
Get groovy with your cocktail dress, white shoes or Nehru jacket for the PS Modcom annual gala on Saturday, Feb. 18, a tribute to the late Peter Seller's 1968 cult movie, "The Party," in an ultra-mod glamorous private home.
On Feb. 24, the Palm Springs Preservation Foundation's Retro Martini Party this year will be at the Maranz home, also known as the "gull wing house." Rarely open to the public, this home, built in 1960 and designed by architect Val Powelson, features an unusual three-pointed star floor plan.
Throughout the week, mix and mingle with other modernism fans at cocktail parties held at the Horizon Hotel, Hideaway and Desert Star Hotel.
Palm Springs Modernism Week is a non-profit organization that produces this annual 11-day festival. When it launched in 2006, the event helped fuel a revival of interest in Modernism, a design aesthetic developed during in the 1950s and 60s typified by clean, simple lines and elegant informality.
To purchase tickets and for more information, visit online at www.modernismweek.com.
Today, desert modernism is a much sought-after architectural genre and Palm Springs is a virtual treasure trove of custom and tract home neighborhoods and important public buildings.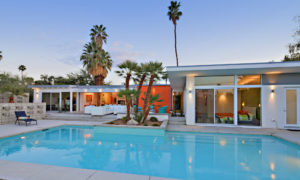 Check out the story on Ralph and Bettina Haverkate's Joshua Tree home renovation in the February, 2012, issue of Palm Springs Life. www.palmspringslife.com.
Pamela Bieri