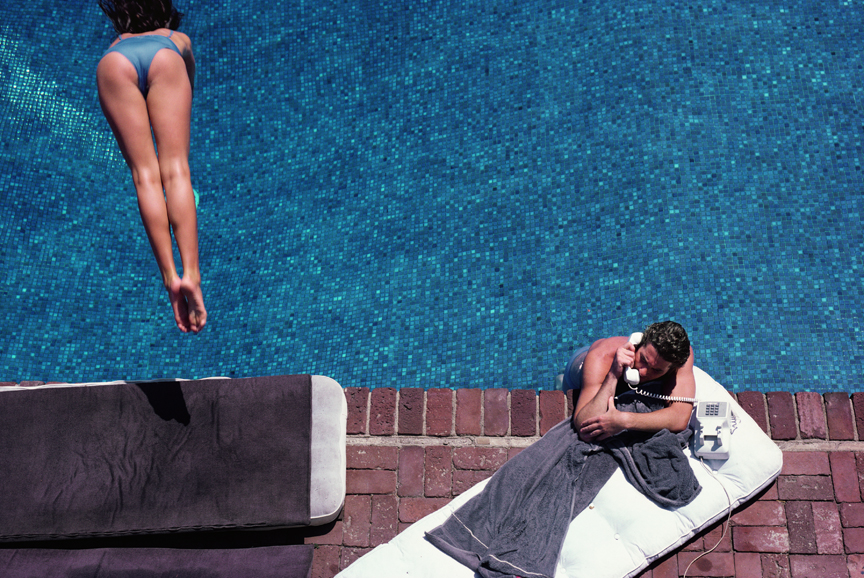 Backyard Oasis: The Swimming Pool in Southern California Photography, 1945-1982  opens January 21 in the Palm Springs Art Museum's Annenberg Wing.  www.psmuseum.org
Beyond some of the obvious glamorous shots of Marilyn Monroe, Ann Miller, Rock Hudson, Liberace, and other stars, the exhibit explores more deeply how photography emerged during as an important medium of fine art, according to Palm Springs Life editor Steven Biller in his art feature this month, breaking the surface.
One pivotal moment came in 1982 when fine art photographer David Hockney's composite Polaroid shots of a nude bather "challenged paintings as the dominant mode in all fine art," said Daniell Cornell, the museums deputy director of art  who curated the exhibition.
Hockney's composite of many Polaroids as one artwork, first exhibited at the L.A. Louvre gallery, will be one of 140 works in the show.
"Backyard Oasis… organizes the photographs in themes explored in the museum's preparatory symposium: the backyard pool in celebrity, Cold War California, architecture and design and beefcake and 'skate cake' views of masculinity," writes Biller.
Biller notes that "the swimming pool also provided a platform to show the changing depiction of gay and straight masculinity."
Photographer Bob Mizer's nine homoerotic images once "held a pretense that the buff, one-cloth-from naked men were posed to promote fitness."
Architectural photographers such as Julius Shulman's iconic views of Richard Neutra's Kaufmann House and Albert Frey's Raymond Loewy House seem to "elevate midcentury modern houses to celebrity status."   www.palmspringslife.com
As part of the Getty Foundation's Pacific Standard Time: Art in L.A., 1945-1980 regional initiative, Backyard Oasis traces the iconography of California's  swimming pool, an integral part of the region's identity, and suggests "the hopes and disillusionments of the country's post World War II ethos."
In addition to more than 100 framed archival photos, Backyard Oasis includes selected celebrity home film clips from Steve McQueen and Ginger Rogers shown on flat-screen monitors.
Among well known artists' work will be Diane Arbus, Bill Anderson, Michael Childers, Anthony Friedkin, Robert Cumming, Shulman, and Maynard Parker.  The exhibition's catalog contains the photos and an overview of California swimming pools' aesthetic and culture.
The show continues through May 27, 2012.
Renowned Modernist architect E. Stewart Williams designed the Palm Springs Art Museum in 1974 and  the Steve Chase Art Wing and Education Center which opened in 1996.  The 124,435 square foot museum complex houses various galleries, sculpture atriums, a museum store, cafe, and the 437-seat Annenberg Theater for the performing arts.
It's located in the heart of downtown Palm Springs at 101 Museum Way, Call (760) 322-4800 or go online at www.psmuseum.org
Backyard Oasis exhibit is open Tuesday through Sunday, 10 a.m. to 5 p.m.; Thursday, noon to 8 p.m., closed Monday and holidays.  Free admission every Thursday, 4 – 8 p.m. during downtown Villagefest and the second Sunday of every month.  Admission is $12.50 adults, $10.50 seniors, $5 students, free for youths under 12, active military and their families.
After viewing the Backyard Oasis exhibit, explore Palm Springs' vast collection of modernism homes and public buildings.  Pick up a map at the Palm Springs Visitor Center for a self tour.
Pamela Bieri