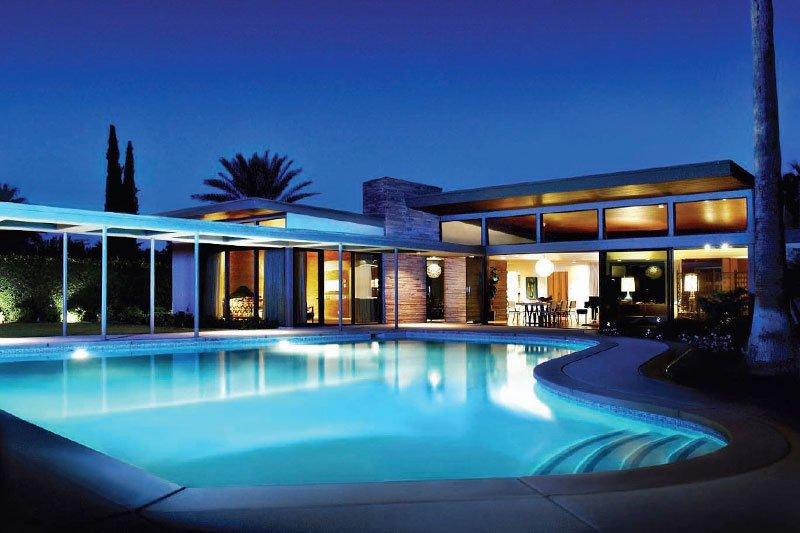 A Swinging' Affair on December 11, a benefit for the Alzheimer's Association, celebrates Frank Sinatra's birthday and promises gala-goers a taste of Sinatra's swingin' lifestyle at two of his favorite Mid-Century  hangouts.
From a cocktail party at Sinatra's former Twin Palms estate to a grand gala at the Riviera Resort and Spa and late-night after party in the Riviera's Starlite Lounge, guests experience the Rat Pack lifestyle for an evening .  At the Riviera, glitzy talent includes Frank Sinatra, Jr. with his 20 piece orchestra, singer Lainie Kazan with Matt Dusk and Daniel Joseph Baker from America's Got Talent.  Actress Pamela Anderson is host of the Grand Gala.
The evening offers a rare opportunity to hang out and enjoy cocktails at listen to the live music of Buddy Greco Jr. Trio with Matt Dusk crooning at Sinatra's former home, a modernism landmark  by noted architect E. Stewart Williams.
Sinatra's Twin Palms estate was William's first custom home commission.  Apparently one afternoon in May, 1947, Sinatra sauntered into Williams' architectural firm slurping an ice cream.  His movie career at a zenith, Sinatra wanted Williams to design and build a big Georgian style home by Christmas.
www.psmodcom.org           www.wikipedia.org/wiki/E._Stewart_Williams
Williams presented Sinatra with two sets of drawings, one for the Georgian-style home and another for a long, low four-bedroom house in which every room has a view of a large swimming pool shaped like a piano.  Fortunately, Sinatra chose the innovative modernist house, which put Williams' design firm on the map.
Sinatra vacationed there with his first wife Nancy Barbato and three children, and later with his second wife, actress Ava Gardner.  Twin Palms became a popular destination for Sinatra's famous friends — such as  JFK, his brother in law Peter Lawford and Sinatra's neighbor Marilyn Monroe.  Sinatra's landmark estate and the lifestyle he lived there helped fuel the wave of modernism which today defines Palm Springs.   www.sinatrahouse.com
Williams subsequently designed a number of custom Mid Century Modern homes as well public landmarks including the Oasis Office Building, Coachella Savings and Loan, Crafton Hills College (in Yucaipa), Santa Fe Savings Bank and the Upper Mountain Station of the Palm Springs Aerial Tramway.   www.pstramway.com
After a recent multi-million dollar renovation, The Riviera Resort and Spa reflect its glamorous Mid-Century Modern heritage.  The hotel was another famous hot spot Sinatra and his Rat Pack frequented in its circa 1959 heyday.   www.psriviera.com
At the Swingin' Affair's Grand Gala, guests will enjoy a three course gourmet dinner while reliving the era as Frank Sinatra Jr. pays tribute to his famous father in songs and anecdotes.  Lainie Kazan, Dusk and Baker share the spotlight with Sinatra.
After the gala, the party keeps on going into the wee hours with music and cocktails in the Riviera's Starlite Lounge.
For tickets and more information, visit www.aswingingaffair.com
The revival of modernism has  generated great interest in both custom and tract Mid Century Modern homes in the Palm Springs area.  In fact, these homes continue to increase even as housing values decline in other markets.
Pamela Bieri