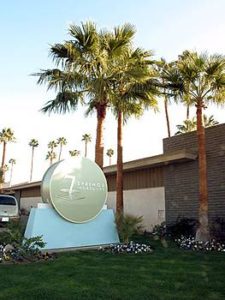 Whether in a large metropolis, small city or country village, neighborhoods define a quality of life, a community, and offer a sense of belonging, of pride and place.
By some historic benchmarks, Palm Springs, incorporated in 1938, is relatively young.  But its explosive growth in the Mid-Century  — particularly innovative modern tract and custom homes — set in motion communities born from a sense of new frontiers, prosperity, and optimism that characterized the American spirit post World War II.
Desert Modernism became a style all its own as renowned architects adapted the International Style to the desert's warm climate and arid terrain, creating an elegant yet informal quality.  Desert Modern residences tend to have post-and-beam construction, open floor-plans, glass walls that connect indoors to outdoors, and are designed on a more human scale, often integrating organic shapes, bold colors, and playful designs.
During the 1950s and 60s, new neighborhoods sprang up throughout the Palm Springs area, developments that attracted vacationers, second home buyers, families, and retirees.   Today, Palm Springs arguably has the largest concentration of Mid-Century Modern architecture in the world.   www.visitpalmsprings.com
A revival of appreciation for Desert Modernism has sparked forming historic districts in the City of Palm Springs and environs to preserve these distinctive neighborhoods and enclaves that are defined as much by their architectural significance as cultural reference.
Historic districts are "areas or neighborhoods in which historic buildings or residences, and their surrounding characteristics or settings, are identified by historical association or architectural quality as significant to the city's heritage and cultural fabric," according to the City of Palm Springs Historic District FAQ definition.
Historic districts not only preserve the inherent richness and personality in an area, but connects the past to the present and provides continuity into the future.  Property values increase and ensures that architectural standards are maintained or restored.
"Studies show that property values in protected historic districts tend to be higher than comparable neighborhoods without such standards," according to the city's Historic District FAQ.
"There are currently 28 defined neighborhoods in Palm Springs with more expected to be added by the end of the year," writes Judith Salkin in her June 19, 2011 Desert Sun story, A closer look at seven historic Palm Springs neighborhoods.     www.mydesert.com/archives
A compilation of distinct Palm Springs neighborhoods — not all are historic districts — may be found online at www.palmspringsneighborhoods.com.
Pride and sense of place are now finding expression through the Palm Springs Neighborhood Initiative Committee which is encouraging homeowner association to place neighborhood name plates throughout the City.  Each individual neighborhood association designs, produces and installs their  own signs.  The first signs went up in the El Mirador and Movie Colony in 2008 as part of the pilot program.
Reflecting Palm Springs rich, layered history, most neighborhoods have a mix of architectural styles from California ranch style, Spanish revival, adobe and walled estates, to Mid Century modern, although many are predominantly Desert Modernism style.
Among them are Sunmor Estates, located on the western side of the Palm Springs International Airport, a project first started by Robert Higgins and later completed by the Alexander Construction Company when Higgins' funding folded.  Most of the Sunmor homes were built in the 1950s and 1960s, designed by renowned modernist architects William Krisel, Donald Wexler and Charles DuBois.    www.sunmor-ps.com
The El Rancho Vista Estates, located on the east side of the airport, was a subdivision developed by Robert Fey with 70 homes designed by Wexler and Ric Harrison in the 1960s.  Most homes here still retain their original profiles.   www.elranchovistaestates.org
The Royal Hawaiian Estates, a five-acre Polynesian style complex,  also designed in the 1960s by Wexler and Harrison, became the city's first residential historic district in 2009.  The 12 building, 40-unit complex features a "tiki apex,"  wooden tiki-style adornments affixed to unique "flying seven" buttresses or "outrigger beams," which had been removed over the years for a variety of reasons.    www.royalhawaiianestates.org
In 2010, grants from the Palm Springs Preservation Foundation paid to replace the missing architectural elements.  Relying heavily on 1960s-era photographs and consulting Wexler on the project, o2 Architecture captured the scale and proportions of the apex to restore the original architectural design to the homes.   www.pspreservationfoundation.org/royal_hawaiian.html.
The PSPF also granted funds for a demonstration project at Park Imperial South to reconstruct part of a decorative concrete block wall.  The project was designed to motivate other homeowners to make similar investments in restoring the complex's original look.  Park Imperial South on South Araby Drive was designed by architect Barry Berkus in 1960.   www.pspreservationfoundation.org/imperial_south.html
The historic Tennis Club Neighborhood, one of the city's most historically significant neighborhoods, was part of land owned by John Guthrie McCallum, who initially sought to develop Palm Springs as an agricultural area.  Architecturally rich, the neighborhood contains Mediterranean style homes and estates from early settlers 1920s and 30s to the mid-century modern Palm Springs Tennis Club designed by A. Quincy Jones and Paul R. Williams.   www.htcno.org
The Indian Canyons Neighborhood, formerly known the Canyon Country Club area, was also originally built in the 1960s.  Most homes have been refurbished to reflect the modernistic roots with distinctive architecture by Stan Sackley, Wexler, Palmer and Krisel.  The area's par-72 Indian Canyons South golf course, owned by the Agua Caliente tribe, boasts a Wexler-designed clubhouse that provides some unexpected grandeur.     www.psicno.com
Architectural tourism has become a huge draw for the Palm Springs area and historic districts are important for preserving the wealth of architecture the area has to offer.
One of these tours, The Palm Springs Modern Committee's annual fall home tour, takes place on Saturday, October 29 from 10 a.m. to 6 p.m.  Tickets at $125 per person includes a self-driving tour followed by a cocktail reception at the last house.  Tour locations will be given with ticket purchase.  Funds benefit the Palm Springs Modern Heritage Fund, a non-profit political action committee.    www.psmodcom.org
— Pamela Bieri