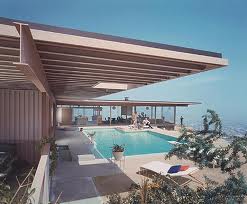 California Modernism is alive and well, with numerous major exhibitions throughout Southern California starting in October that celebrate and explore architecture, design, furnishings, art and those who created California's unique lifestyle.
The Pacific Standard Time initiative is a collaboration of more than 60 cultural institutions across Southern California coming together to tell the story of the birth of the L.A. art scene.  An initiative of The Getty Foundation, this comprehensive scope intends to highlight the work of Los Angeles artists during the dynamic period following World War II.  Concurrent Pacific Standard Time exhibitions will run from Fall 2011 to Spring 2012 throughout the Los Angeles area and from Santa Barbara to San Diego and Palm Springs.www.getty.edu/news/press/center/pacific_standard_time_2010.html.
The first major study of California's influence on Mid Century Modern design, California Design, 1930-1965: , debuts October 1 at the Los Angeles County Museum of Art with more than 300 objects – furniture, ceramics, metal work, fashions and textiles, and industrial and graphic design.
The exhibition examines California's role in shaping the material culture just before and after World War II, and the roots of California Modernism.  Through its four thematic areas, the exhibition hopes to  elucidate that California design "is not a superimposed style, but an answer to present conditions…it has developed out of our own preferences for living in a modern way," from a statement made back in 1951 by émigré designer Greta Magnusson Grossman.    www.lacma.org/art/exhibition/californiadesign
According to Collectors Weekly, the exhibition begins in the 1930s with the development of a distinctive California Modernism, primarily through the contributions of iconic architects Kern Weber, Paul Frankl, R.M. Schindler and Richard Neutra, all émigrés from Europe where the Bauhaus and International style movements began.
The exhibit also explores design innovations that arose from technology invented during World War III such as fiberglass, plywood and steel.  In particular, Charles and Ray Eames' work for the US Navy that resulted in their famous molded fiberglass and plywood chairs after the war.
The largest section of the show focuses on the modern California home characterized by open floor plans and seamless indoor/outdoor living, inspired as much by California's temperate climate and casual living as post war optimism and prosperity.   www.collectorsweekly.com/events
"The economic and demographic changes that followed World War II profoundly affected California," wrote Eudora Moore, director of California Design. "The population expanded as people emigrated west lured by the promise of employment, warm climate, optimistic outlook and growing prosperity.  As the state emerged from the postwar years, its artistic community flourished.  Freed from the constraints of Europe and New York, California became the preeminent and influential center for design."    https://www.ackermanmodern.com/our-story/california-mid-century-modernism/
Created for a casual lifestyle, new types of furnishing were often produced by designers whose work, still largely unknown, will be seen for the first time by museum audiences, according to the LACMA  website.
The exhibition's last section demonstrates through other exhibitions, magazines, shops and film how "The California Look" was disseminated throughout America and the world.
One of the most influential vehicles for promotion of California Modernism was the series of California Design exhibitions held from 1954 through 1976.  Eudora Moore became executive director in 1962 expanding the size of the shows and instituted juried awards.  Most were held at the Pasadena Art Museum; The final show took place at the Pacific Design Center.
California Design 1930-1965: Living in a Modern Way will be in the Resnick Exhibition Pavilion at the Los Angeles County Museum, 5905 Wilshire Boulevard, October 1, 2011 – March 28, 2012.   www.lacma.org/art/exhibition/californiadesign
Another exhibit, Eames Design: The Guest Host Relationship, also debuting October 1 at the Architecture and Design Museum in Los Angeles,  focuses on the words and designs of Charles and Ray Eames.
"The role of the designer is that of a very good, thoughtful host, all of whose energy goes into trying to anticipate the needs of his guests," said Charles Eames.
This theme will be explored through a display of Eames' quotes shown typographically and on film alongside key related objects – from tumbleweed, to bread, to a keg of nails and vintage furniture.  It will examine the relationship between these objects and the ideas that flow from them, according to the A+D website.
A+D is located in the Bradbury Building, one of downtown Los Angeles' premier landmark buildings located on LA's Museum Row.  www.aplusd.org
San Diego's Craft Revolution, October 16, 2011 – April 15, 2012, at the Mingei International Museum in San Diego is also part of the Pacific Standard Time initiative.
The exhibition will reveal the important contributions of San Diego Craftsmen to the post-war Southern California art scene as it progresses from sleek modernism to unconventional handmade objects of use such as furniture, doors, jewelry and ceramics.
The more than 50 artists include Toza and Ruth Radakovich, Rhoda Lopez, Jack Hopkins, Arline Fisch, Ellamarie and Jackson Wooley, Larry Hunter, Kay Whitecomb and James Hubbell.
Many of the these San Diego-based artists received national attention and participated in major Los Angeles exhibitions, including the California Design series held in Pasadena and Los Angeles.   www.mingei.org/exhibitions
Starting December 11, 20121 through April 1, 2012, the Palm Springs Art Museum participates in the Pacific Standard Time initiative with Backyard Oasis: The Swimming Pool in Southern California Photography, 1945-1980.
This exhibit "examines the Southern California swimming pool as depicted in photographs.  The backyard pool as a private setting, became a space to participate in various sub-cultural rituals and to enact clandestine desires.  As a medium, photography became the primary vehicle for the circulation of post- WWII imagery.  The exhibition will trace the integrated history of photography and the iconography of the swimming pool, bringing to light many aspects of this rich interaction," according to the Getty Museum website. www.getty.edu/news/press/center/pacific_standard_time_2010.html
Palm Springs is the heart of California's Desert Modernism, creating a vernacular all its own.  From containing one of the largest collections of Mid Century Modern homes and architecture in the county to dozens of important design stores in its Uptown Design District, explore Palm Springs and environs  for an inspiring, in-depth education.
Pamela Bieri