Long before Palm Springs came to treasure its Mid Century Modern heritage, architectural photographer Julius Shulman began documenting California's postwar contemporary homes and buildings with a mission to "sell architecture" and the idealized vision of California's casual, sunbathed indoor-outdoor lifestyle to the readers and editors of consumer and architectural magazine.
Shulman's iconic photography spread California Mid Century Modern throughout the world.
His roster of clients is an impressive "who's who" in pioneering contemporary architecture: Rudolf Schindler, Gregory Ain, Frank Lloyd Wright, Charles and Ray Eames, Raphael Soriano, John Lautner, Albert Frey, Pierre Koenig, Harwell Harris and many others.
Shulman's work was contained in virtually every book published on Modernist architects and that trend continues.
Two new books on the late photographer were just released this spring:  Julius Shulman Los Angeles: The Birth of a Modern Metropolis by Sam Lubell and Douglas Woods, published in April, 2011 by Rizzoli International ; and Julius Shulman: The Last Decade by Thomas Schirmbock and Shulman's business partner Juergen Nogai, published March 22 by Kehrer, Heidelberg, Germany, are now available in books stores and at  www.Amazon.com.
Shulman's unplanned career as an architectural photographer began  in 1936 when an acquaintance who worked for Richard Neutra asked Shulman to take a few shots of Neutra's nearly completed Kun House in the Hollywood Hills.  Neutra liked the images and hired Shulman for subsequent projects, soon introducing him to all the leading and emerging architects.
Shulman's most famous 1947 photo of Neutra's Kaufmann House in Palm Springs shows the architect's glass house as an array of shimmering squares and rectangles.  In the photo, Mrs. Kaufmann reclines beside the glowing swimming pool in the foreground while the dusk illuminated rugged desert mountains frame the background.
One of most widely reproduced architectural photographer ever, it's existence lead to the painstaking restoration of the Kaufmann house in 1999 to its original condition, and subsequently helped launch the revival of Palm Springs Modernism.  www.psmodcom.com
The restoration of the Kaufmann house "became a part of cultural history thanks to an iconic photo by Julius Shulman," according to Dave Weinstein in CA Modern Magazine.  "The project did more than restore one of America's most important 20th century houses … it helped the city of Palm Springs recover its love for all thing modern." www.eichlernetwork.com/desert_chron7.html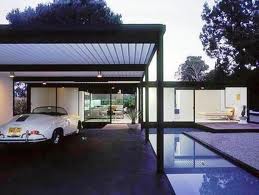 Another landmark photo is Shulman's portrayal of Pierre Koenig's Case Study House #22 in Los Angeles, 1960, in which the edge of the house seems to float above Los Angeles' evening lights while inside two women are seated, having a conversation.  Both photos seem to testify to the ability of the Modernist architect to transcend the limits of the natural world.
Shulman's optimistic world view fit the Modernist era.   "He was the most optimistic person I've ever known," said Santa Monica gallery owner Craig Krull who since 1991 was the exclusive gallery representing Shulman.  "That outlook was perfectly suited to a 'translator' of Modernism's optimistic spirit — with its belief in the promise of the future and the capacity of technology to improve civilization."
Shulman almost always used black and white film to better reduce his subjects to their geometric essentials.   www.nytimes.com/2009/07/17/arts/design/17shulman.html
His "prodigious body of work is quintessential: luminous and memorably composed images highly evocative of time and place," writes Sarah Amelar in a July, 2009 issue of Architectural Record.www.archrecord.construction.com/news/daily/archives/090728shulman.asp
"The clarity of his work demanded that architectural photography had to be considered as an independent art form," according to Shulman's biography in Wikipedia.
"Each Shulman image unites perception and understanding for the buildings and their place in the landscape.  The precise compositions reveal not just the architectural ideas behind a building's surface, but also the visions and hopes of an entire age.  A sense of humanity is always present in his work even when the human figure is absent from the actual photographs."    http://en.wikipedia.org/wiki/Julius_Shulman
"But Shulman's work went well beyond merely taking beautiful pictures of houses and buildings," wrote Claudia Luther in the July 18, 2009 issue of the Los Angeles Times.
"His mission was to use his photography to build the reputation of the architects who were bringing innovative design to the West. Indeed, his photographs were, by and large, all that most people would ever see of noted architects' works, many of which were later destroyed."   www.latimes.com/new/obituaries/la-me-julius-shulman17-2009jul17,0,1393680.story
In 2005, The Getty Research Institute acquired his archives of more than a quarter million prints, negatives and transparencies.
In February 2008, the Palm Springs Art Museum presented "Julius Shulman: Palm Springs" with more than 200 photographs, illustrations, renderings and models, the largest Shulman exhibition ever presented to date, documenting a place that was so inspirational to Shulman.   www.psmuseum.org
Shulman's last exhibit at Craig Krull's Gallery was scheduled for July 4 through August 8, 2009.  But Shulman passed away at his home in Los Angeles July 15, 2009 at 98 years old.
Craig Krull Gallery will be opening a major survey of Shulman's work in September, 2011, and a paperback edition of Julius Shulman Los Angeles by Christopher James Alexander is due out October 29.
Shulman's work brought fame to a number of Mid-20th Century architects, left an invaluable record of the evolution of key buildings and their surroundings, and forged an unforgettable, inspiring archive of time and place.
Palm Springs and the California desert offer a living testament to the beauty and grace of Mid Century Modern homes and lifestyle.
Pamela Bieri