When Ralph W. Haverkate, a real estate broker specializing in Mid Century Modern homes, came across an abandoned but classic Mid-Century Modern home in south Palm Desert that was facing a short sale, he immediately called his wife Bettina Waldraff to come take a look.
"He wanted me to see the inside of the house with the true mid-century modern beam ceiling and big back yard with pool which our two Entlebucher Swiss Mountain dogs would love," she said. "We both saw right away the potential of this property."
The couple called young up-and-coming architect Lance O'Donnell of O2 Architecture in Palm Springs, a protégé architect working with Donald Wexler.  They previewed several homes with O'Donnell to get his perspective and input. O'Donnell agreed that south Palm Desert house was a great location, within walking distance to El Paseo, and had "great bones and potential." O'Donnell suggested leaving the existing ceiling and adding on a master suite to increase the house from approximately 1,900  to 2,500 square feet.
Their offer finally accepted, the Haverkates sealed the deal in November, 2009.  O'Donnell began his design that  maintained the house's original architecture but meticulously reinvented its interior. Rarely is a house able to combine modern and vintage accents into a living work of art.
"Mid-April of last year, our project was underway," said Bettina. "Moving along, the whole house was gutted down to the studs and just the old concrete floors and wood beam ceilings were left."The remodel, executed by Barton Construction Palm Springs, kept the original wood post and beam construction and ceiling.  New air conditioning ducts and copper plumbing were installed under the original slab. The new roof and walls were fully insulated and the concrete floors throughout were restored and polished.
The new master suite bedroom/bathroom addition was designed with its roof tilted in the opposite direction of the existing roof line of the house to give it the mid-century modern "Butterfly Roof" look.
The kitchen was designed to be a focal point in the living space.  It features CAESARSTONE kitchen counter tops, white high gloss Wenge wood veneer cabinets and top-of-the-line MIELE dishwasher, oven, steamer, warming drawer, and built in espresso machine, with an energy efficient induction glass cook top and stainless steel hood. A SUBZERO refrigerator and 150 bottle SUBZERO wine fridge complete the kitchen appliances. "A long 10 feet dining table was a must since I like to cook and entertain friends and clients of Ralph's," said Bettina. "And a handmade crystal chandelier rounds up the dining area giving it a glamorous feel."
A huge 24-foot glass wall completely disappears, joining the living areas to the patio and pool. "Strong support was needed to hold the big glass slider," said Bettina. "To have that open space, living inside/outside feeling was one of the main items on our wish list."
The swimming pool was completely re-done in its original style, shape and size with all new pool equipment, plumbing and concrete decking, adding an outdoor fire pit and sitting area.
Albert Frey-style block walls provide privacy and accent the desert landscaping. A state-of-the-art see-through glass Napoleon fireplace replaces an outdated fireplace.
Bathrooms feature PORCELANOSA glass tiles and Wenge veneered cabinets under modern WET sinks and the master bath has a white custom CAESARSTONE dual vanity.  All faucets, shower heads and toilets are the latest design of KOHLER.
"Mark Davis from the Modern Home store in Palm Springs supplied us with tile for all the bath rooms and kitchen back splash as well as the countertops in the kitchen and the double sink free-floating unit in the master bath," said Bettina.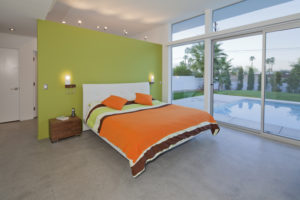 The Haverkates chose double pane  energy-efficient aluminum framed windows and sliders throughout the house. Three separate air and heating systems were placed underground (rather than on the roof) and can be operated separately to keep the energy costs down. Most lighting is the latest energy efficient LED light fixtures.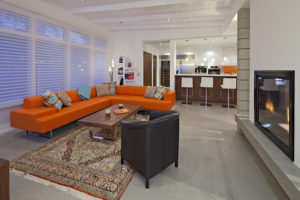 "Finding the right furniture was fairly easy since both Ralph and I have very similar taste," said Bettina. "We were able to picture what pieces we needed where and what colors.  We found some of the furniture in Los Angeles, and also some great pieces locally in Palm Springs."
The property is conveniently located in a very quiet South Palm Desert area but still within walking distance to the high-end shopping/restaurant EL PASEO area.
"
We moved in November 2010 and just love the area and the house," said Bettina. "Our two dogs, Heidi and Willi, could not be happier; they enjoy the big lawn area created for them to play and run after their balls."