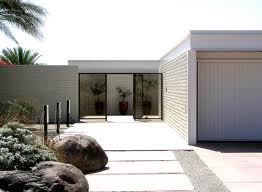 Craig Ellwood is credited with designing some of the most elegant modern homes built in California in the 1950s and 1960s, but he was not educated as an architect.  Greatly influenced by Mies van der Rohe as well as Charles Eames and Richard Neutra, Ellwood's designs were characterized by exposed lightweight steel or timber framing, and by floating wall planes separated by a shadow line or "flash gap" detail.  Ellwood homes were spare, modernist and elegant.
On Saturday, April 2, 10 a.m.,  the Palm Springs Museum focuses on Ellwood's work as the final seasonal lecture on the history of modernism architecture in Palm Springs.  A tour of Ellwood's most significant Coachella Valley work, the Max Palevsky residence in Palm Springs, follows the lecture.  The late billionaire Palevsky was a computer technology pioneer, venture capitalist and philanthropist. Cost for the event is $25.  www.psmuseum.com.
An influential Los Angeles-based modernist whose career spanned the early 1950s through the mid-1970s, Ellwood was recognized for fusing the formalism of Mies van der Rohe with the more casual  California modernism, adapting the style into an accessible and fashionable vernacular.
The controversial designer fashioned a "persona" and career through his innate talent for good design, ambition and self-promotion.  If ever there was a product of Hollywood, it was architect Craig Ellwood.  Even his name was an invention:  Born Jon Nelson Burke in Clarendon, Texas, in 1922 his family moved to Los Angeles in 1937 where he attended Belmont High School.
After discharge from the Army Air Corps in 1946, Burke returned to Los Angeles and set up a company with his brother Cleve and two friends from the war, the Marzicola brothers, one of whom had a contractor's license.  The four men named their firm "Craig Ellwood" after a liquor store called Lords and Elwood located in front of their offices.  Burke later legally changed his name to Ellwood and established Craig Ellwood Design in 1951.   www.absoluteastronomy.com/topics/Craig_Ellwood
Ellwood entered LA's percolating, post World War II design world as a construction supervisor, draftsman and a cost estimator.  He worked for a construction company in Los Angeles while taking night classes at the University of California Los Angeles Extension Division.  One year before completing his studies, he and his partners established Craig Ellwood Associates in Los Angeles.
Ellwood learned hands-on about building in steel and plastic sheet before he studied architectural theory which gave him an understanding of steel construction and a practical application that eluded many contemporaries from architectural school.  His designs incorporated steel with thoughtful detailing and craftsmanship;  his trademark structural devise incorporated an exposed warren truss that used small member to span big distances.   www.greatbuildings.com/architects/Craig_Ellwood.html.
As a cost estimator for a firm of modern house builders — Lamport, Cofer, Salzman —  Jack Cofer asked Ellwood to design his first house for Milton Lappin in 1948.  Although an awkward  derivative of Frank Lloyd Wright's Sturges House in Brentwood, the house was published in the Los Angeles Times Home Magazine in 1950, bringing Ellwood recognition, further commissions, and encouraged him to set up, illegally, as Craig Ellwood, Architect.
Soon after he began co-designing homes, Ellwood met John Entenza, founder of the important Case Study House Program which commissioned and promoted modern, economical housing designs.  As editor of Arts & Architecture magazine, Entenza promoted the creative and cost-effective prefabricated, modular housing by publishing these demonstration houses, designed by such luminaries as Charles Eames, Eero Saarien, Richard Neutra, John Lautner, and Edward Killinsworth.  Ellwood eventually designed three Case Study houses all built with exposed steel frames and columns.
His first commission outside of Los Angeles, in 1955 for Charles and Gerry Bobertz in San Diego, Ellwood designed an early example of what later came to be called Ellwood's "wall houses," named because of an unrelenting street facade and the defining, perpendicular rhythms and materials of interior and exterior walls.
Behind the stark street facade, however, logically arranged living area unfold, flooded with natural light from windows and skylights.  Eight-foot tall floor to ceiling glass doors open the house to the back yard and a children's courtyard.  Inside, partition walls, capped with bands of glass that meet the wood ceilings, seem to float.   www.legacy.signonsandiego.com/uniontrib/2006/09/03/news_mzlhs03moder.html
The enigmatic exterior wall theme continued when Ellwood designed the Palevsky home on West Cielo Drive in 1968 on what was then described as "the best site in Palm Springs."  Based on Casablanca desert  style homes that were white-walled compounds with structures set within rectangular walls, the minimalist Palevsky home is integrated into its boulder-strewn site.
www.palmspringsarchitectureblogspot.com/2010/05/max-palevsky-residence.html
Often formal in arrangement, sometimes symmetrical in plan and frequently launching into the landscape, Ellwood houses populated the more exclusive Los Angeles suburb including Beverly Hills, Pacific Palisades, Brentwood and Pasadena.
Although Ellwood's style translated less well in large commercial projects, the Scientific Data Systems site in El Segundo, (1968) where the administration and manufacturing buildings are pavilions in an open landscape, achieved a successful expression.  Ellwood's last building, the Art Center College of Design in Pasadena, was conceived as a huge truss spanning a canyon, a final, successful realization of a theme often repeated in his earlier buildings.
Although Ellwood's work is limited in Palm Springs, the California desert is a treasure trove of remarkable, architecturally significant homes and estates by some of the world's most prominent Mid Century Modern architects.
Pamela Bieri